Want an easy, hands-free way to check your email, pull up your favorite music selections, or even track calories? Give this device a whirl.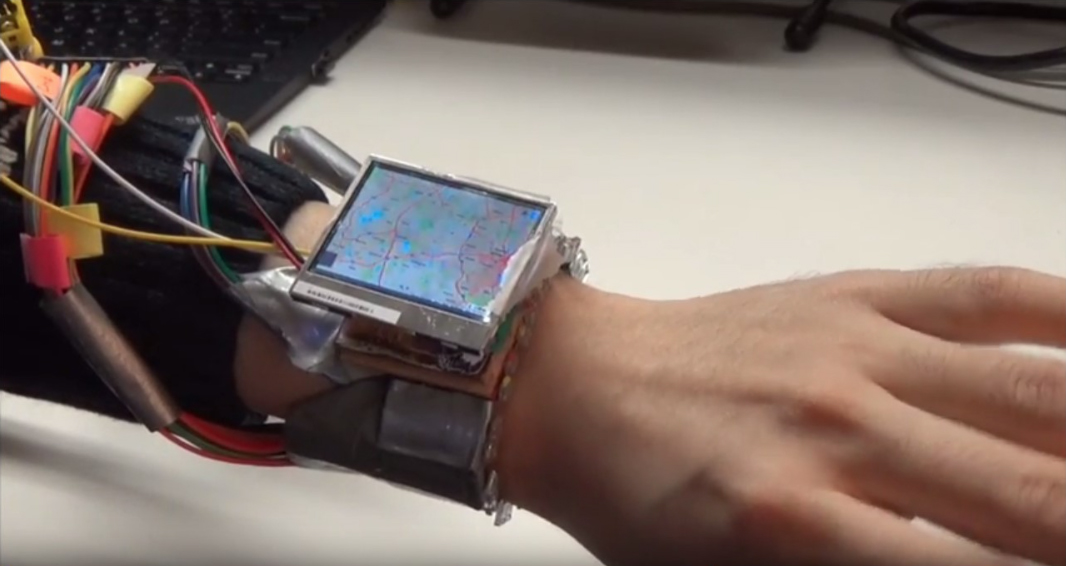 The WristWhirl smartwatch prototype operates via hand gestures.

Developed by a team led by researchers at Dartmouth College, the WristWhirl smartwatch prototype allows the wearer's wrist to function as a joystick for common touchscreen gestures.

Constructed from a two-inch TFT display and a plastic watch strap augmented with 12 infrared proximity sensors and a Piezo vibration sensor connected to a Arduino DUE microcontroller board, the watch successfully controlled four different applications during testing.

WristWhirl is the first smartwatch to explore gestural input for easy, one-handed operation of a smartwatch, according to Xing-Dong Yang, assistant professor of computer science at Dartmouth. This functionality frees up the hand not wearing the watch to perform other tasks at the same time.

Researchers tested four different operations using WristWhirl, all based on off-the-shelf applications and Google Maps. In the first scenario, users could access application shortcuts via drawing gestures. The second scenario allowed users to scroll through songs on a music player using wrist-swipes; the user chooses a song to play by double-tapping the thumb and index fingers of the hand wearing the watch together. A map application permitted the user to pan and zoom two-dimensional map images depending on where the user held the watch in relation to the body. Finally users successfully played Tetris using a combination of wrist-swipes, wrist extension and wrist flexion.
[VIDEO:  
https://www.youtube.com/watch?v=JTPzeZGiI8w&t=10s
.]
In the development of WristWhirl, researchers asked participants to perform eight joystick-like gestures while standing or walking. With the watch on their left wrist, participants made directional marks similar to touchscreen control, and then drew four free-form shapes. Participants performed the tasks faster with their hand alongside their body rather than out in front of them, where they received visual feedback of their motions on the watch screen.
WristWhirl's single-handed functionality could point to the future of control for smartwatches and other wearables, according to the researchers.