One of the main issues with traditional liquid crystal displays (LCDs) or light-emitting diodes (LED) in portable electronics and in information displays is the inability to see them in bright light. They work better indoors or in darkness. That all may change as researchers at Chalmers University of Technology have developed a micrometer-thin, flexible electronic paper that reflects light, making it suitable for areas of bright light and the outdoors.
The electronic paper still displays all the regular colors of an LED display, but it needs ten times less energy than an Amazon Kindle tablet, the researchers say. Andreas Dahlin, assistant professor at Chalmers, says the electronic paper does not light up like a standard display but, rather, reflects the external light that illuminates it.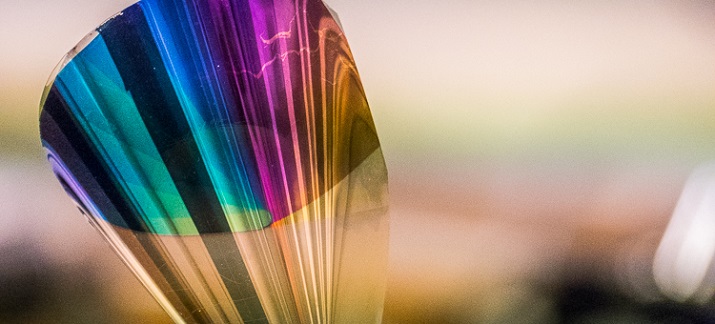 The new flexible electronic paper uses polymers on nanostructures that absorb and reflect light. Source: Chalmers University of Technology "Therefore it works very well where there is bright light, such as out in the sun, in contrast to standard LED displays that work best in darkness," Dahlin says.
How They Did It
Researchers began working on placing conductive polymers on nanostructures and discovered that the combination would be well-suited for creating displays that were as thin as paper. It works based on the polymers' ability to control how light is absorbed and reflected. The polymers cover the entire surface and lead the electric signals throughout the full display for high resolution. The display uses the same red, green and blue colors in standard LED displays.
While the material is not yet ready for actual application use, the results the researchers have garnered from its development is encouraging. The next step is to build pixels that cover an area as large as a display.
"We are working at a fundamental level, but even so, the step to manufacturing a product out of it shouldn't be too far away," says Dahlin.
Future applications the electronic paper could be adapted for include displays that are in well-lit places, such as outside, or in public places, to display information. Not only would this produce displays that are better for viewing by consumers, but also it would reduce energy consumption and add a flexibility to displays that currently are rigid.