The future of electronic displays has just gotten a whole lot sharper. Panasonic Liquid Crystal Display Co., Ltd., a unit of Panasonic Corp., has unveiled a new model of its in-plane switching (IPS) liquid crystal panel that achieves the highest contrast ratio ever of more than 1,000,000:1, or 600 times that of conventional liquid crystal panels.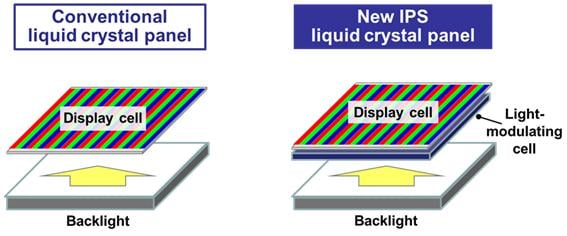 Structural comparison between conventional and new liquid crystal panels. Credit: Panasonic This new type of IPS liquid crystal panel features wide viewing angles, high brightness and high reliability and is geared for professional-grade high dynamic range (HDR) monitors for broadcasting stations, video production studios and medical and automotive use.
The new high-contrast panel was created by integrating newly developed light-modulating cells that permit pixel-by-pixel control of backlight intensity. This achieves a high-grade HDR video display that can reproduce images faithful to what the eye can actually see, ranging from dazzling light to jet-black darkness.
Panasonic says its high-contrast IPS panel solves the problems inherent in conventional liquid crystal panels, which have a contrast ratio of about 1,800:1. Despite their track record in wide-ranging applications from B-to-C to B-to-B fields, conventional liquid crystal panels suffer black floating, white washout phenomenon in dark parts of the display area when the backlight intensity is increased to raise brightness. When the backlight intensity is lowered to make dark parts clearer, these panels also suffer a loss in sparkle in bright parts.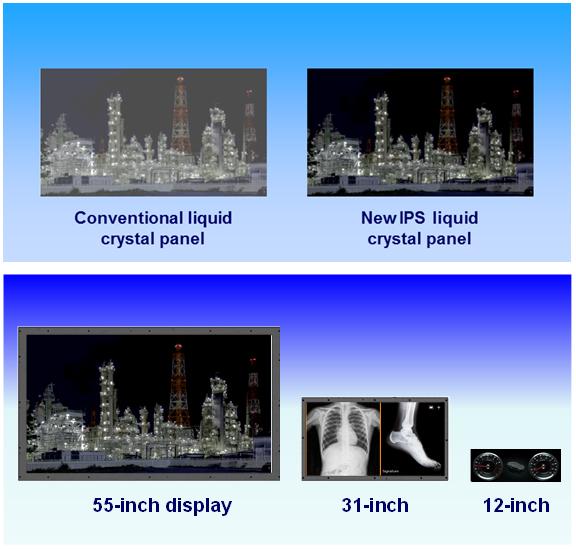 New IPS liquid crystal panel achieves a contrast ratio of greater than 1,000,000:1. Credit: Panasonic Panasonic's IPS panel uses newly developed light-modulating cells, which operate based on the principle of liquid crystals, and these cells are integrated into the display cells. As a result, the panel is capable of controlling the amount of backlight entering the display cells pixel by pixel, thus achieving a contrast ratio of 1,000,000:1.
The light-modulating cells are composed of a liquid crystal material that differs in light-transmission properties from that used in the display cells, allowing independent control of the display and light-modulating cells, the company explained. This reduces light leakage significantly, allowing finely tuned gradation expression.
The new panel is capable of stable operation at a maximum brightness of 1,000 cd/m², or candelas per square meter, a measurement of the amount of light a LCD monitor produces. It also can be fabricated using existing liquid crystal panel manufacturing facilities, Panasonic says.