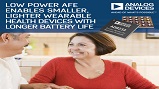 Analog Devices' AD8233 analog front-end. Source: Analog Devices. Analog Devices, Inc. has announced a low-power, next-generation biopotential analog front-end (AFE) that enables smaller, lighter and less obtrusive cardiac monitoring devices with longer battery life. The AD8233 AFE is a fully integrated, single-lead electrocardiogram (ECG) front-end designed in one compact, easy-to-use component.
Typically developers need to design ECG front-ends from individual components, which can add incremental cost and design time. The highly integrated, out-of-the-box AD8233 AFE eliminates these unnecessary costs and extra time, helping developers get products to market more quickly. Additionally the 2.0 mm × 1.7 mm tiny size of the device enables the design of wearable health devices that are smaller, lighter and easier to wear.
The single-supply (1.7 V to 3.5 V) AD8233 features extremely low quiescent current of 50 μA (typical); lead on/off detection, even while in shutdown mode (<1 μA); and 80-dB common-mode rejection ratio (DC to 60 Hz). Electrical noise, a critical specification for cardiac-monitoring devices, is below 10 μV from 0.5 to 40 Hz.
The AD8233 also allows for highly flexible filter configurations that are essential to consistent, confident operation in an inherently harsh electrical environment under a range of use cases: a two-pole, adjustable high-pass filter; a three-pole, adjustable low-pass filter with adjustable gain; and an RFI filter. Analog Devices also offers an evaluation board, reference design, web-based filter design tool, and Spice model to facilitate design-in and speed time to market.
List price for the AD8233 is $1.49 each in quantities of 1,000; the AD8233CB-EBZ evaluation board is $46.27 each in similar quantities.