Vendors with analog expertise are targeting the ECG (electrocardiogram, also known as EKG from kardia, Greek for heart) market via analog front end (AFE) ICs and chipsets, and with good reason: it's an area where their expertise is sorely needed, yet they don't need to worry about the final product's functions or features. It's just one of the many areas of medical instrumentation where there is innovation for both clinical and remote (home) use.
There's nothing new about analog circuits and ECGs—historically, this was one of the earliest opportunities for precision analog components such preamplifiers, isolation amplifiers (for patient safety and signal integrity), specialized power supplies with reduced internal "leakage" (also for safety). But the ability to pack all the necessary analog front-end circuitry onto one or a few low-power ICs is contributing to a spurt of activity in this area.
There are many reasons why this is an attractive opportunity for IC vendors:
•The technical goals are unique, clear and unambiguous: capture and digitize a set of microvolt signals from electrodes on the body, despite noise and many other electrical challenges; the physical connections and data-capture requirements are set by medical standards.
•Extra features and "bells and whistles" on the cardiac signal-capture side are not needed and, in fact, discouraged; OEMs just want the AFE to do the basic data acquisition and digitization, do it well, and pass the data along.
•The market is well defined, with small, medium and large OEMs as viable participants.
•Using a standard AFE greatly simplifies obtaining mandatory regulatory approvals for this device.
•The OEMs differentiate their product via the overall design—which may be small and portable as in a Holter monitor, or non-portable for in-clinic use, the user interface e and data presentation. The analog side is not where they want to devote resources.
•OEMs are increasingly devoting their efforts to integrating cardiology instrumentation with hospital IT functions via telemetry and networking; again, the analog side is not their value-add or expertise area.
•They are also focusing on developing algorithms for analyzing the ECG waveform for artifacts and symptoms, given the properly captured and digitized data.
According to a recent report, growth in the U.S. market for remote cardiac-monitoring devices and services is set for more than a 25 percent increase from 2011 to 2016, as healthcare providers seek to cut expenses by gathering data on patients outside of the costly hospital environment. "World Market for Diagnostic Cardiology Devices and Remote Cardiac Monitoring Services – 2013" from IHS InMedica, says that market revenue is expected to rise to $867 million in 2016, up 27 percent from $686 million in 2011 (Figure 1).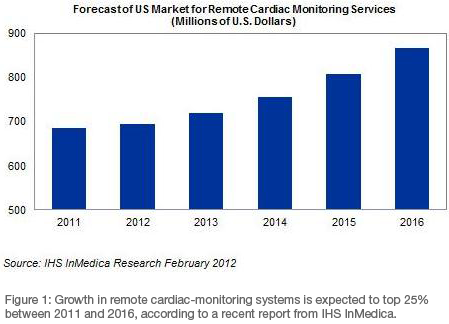 The use of small, reasonably priced remote ECG units and associated telemetry allows monitoring of cardiac arrhythmias outside of the hospital. "Cardiovascular disease (CVD) continues to be the world's leading cause of death, and cardiac care is placing a major strain on healthcare providers," said Nicola Goatman, market analyst at IHS. "With limited physician resource to cover the ever-increasing number of cardiac patients, remote monitoring enables patients to be observed away from the hospital over longer periods of time, providing a much needed cost-saving initiative. Furthermore, remote detection's early discovery of cardiac disease is vital for reducing costly acute care later down the line."
Along with overall form factor packaging, and user interface, connectivity is where ECG-device vendors are putting their design resources, based on demands of their customers—hospitals and medical-service providers. According to an earlier report, "The World Market for Diagnostic Cardiology Devices and Remote Cardiac Monitoring Services – 2012," the use of remote monitoring is further being accelerated by the use of the Digital Imaging and Communications in Medicine (DICOM) medical imaging standard. ECG management systems are increasingly required to interact with larger Cardiovascular Information Management Systems (CVIS) and Picture Archiving and Communication Systems (PACS).
"While other medical disciplines have rapidly adopted IT integration, the cardiology diagnosis market has been lagging," Goatman noted. "This is changing as hospitals place increasing importance on IT integration to streamline cardiology workflows."
Key IC vendor offerings
The basic AFE for ECG requires the ability to capture signals across multiple channels despite ambient AC-line and other interference, perform 16-to-24-bit A/D conversions at relatively low rates. Some portable monitors use just two or three channels, which is fewer channels than the standard 12-lead version.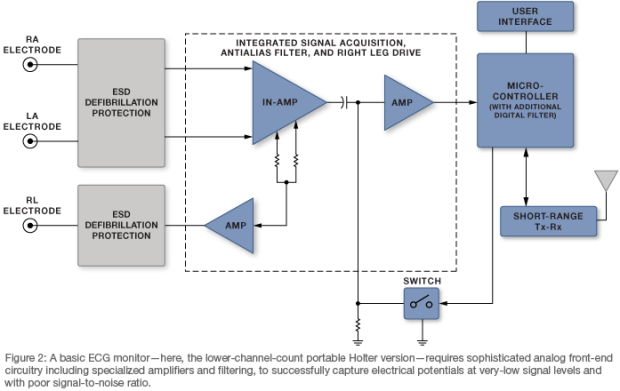 The block diagram (Figure 2) of a portable Holter ECG design (with fewer patient electrodes, named after its originator), with two leads for acquisition plus one driven lead, shows the key functional blocks. Among the IC vendors in this market are Analog Devices, Texas Instruments, Freescale Semiconductor, STMicroelectronics and Maxim Integrated.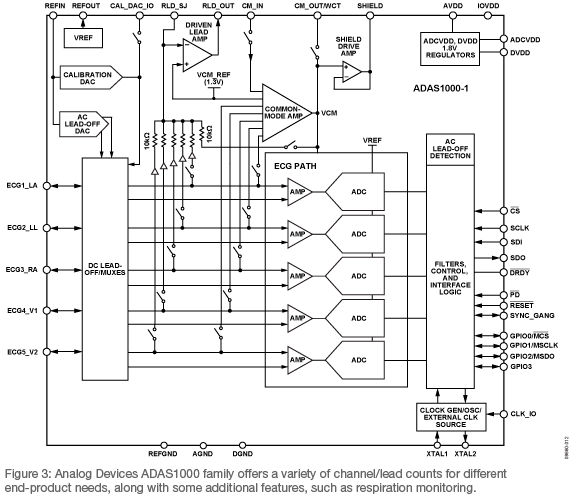 Analog Devices' high-end offering is the ADAS-1000 family (Figure 3), which provides up to three or five electrodes (depending on specific version) and a driven lead, plus necessary features such as "lead off" detection. It communicates with the system processor via a basic SPI interface, while consuming only between 10 and 20 mW, again depending on model, and is thus well-suited for the growing portable market. TI competes with the ADI part with ADS1298 (Figure 4), an eight-channel with roughly comparable specifications.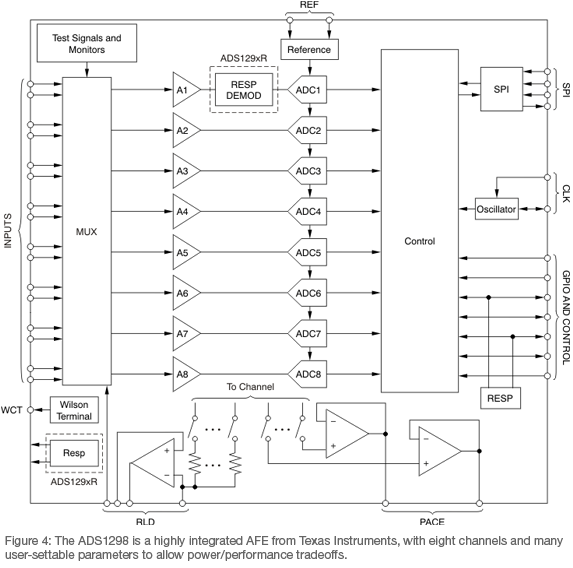 Both the ADI and TI ICs are "complete" (an often misused word in the industry) containing all needed analog signal-interface and conditioning circuitry, A/D conversion, power-management functions, other unique application-specific features, and digital I/O to interface directly to a suitable microcontroller. Some of their ICs also include respiration monitoring, a feature which some ECG designs want integrated with the overall unit.
Other vendors pursuing this market do not offer such highly integrated AFEs, but do have the needed functional blocks for a complete circuit design, such as Maxim's MAX11040K four-channel simultaneous-sampling ADC specifically targeted for ECG and biomedical applications.