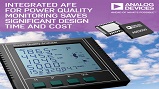 Analog Devices, Inc.
 has introduced a highly integrated polyphase analog front-end (AFE) with power quality analysis designed to help extend the health and life of industrial equipment while saving developers significant time and cost over custom solutions.
The ADE9000 AFE is an off-the-shelf solution with embedded power quality algorithms and integrated with high-performance analog-to-digital converters (ADCs) in one single device. This integration simplifies additional complex algorithm programming, reduces cost and component count, and increases time-to-market while still achieving high accuracy and enabling EN61000-4-30 Class S for power quality. The ADE9000 AFE enables designers of power-quality monitoring solutions to measure and analyze pollution in order to prevent disruptions and long-term damage, primarily for three-phase power meters.
The ADE9000 AFE integrates seven high-performance ADCs; a high-end reference; a flexible, digital signal processing core; and proprietary algorithms into a single convenient device. High accuracy is driven by the ADCs and reference, which provide low drift over temperature and the highest accuracy over the widest dynamic range. Pre-programmed, proprietary, power-quality software provides real-time monitoring and harmonic analysis, including magnitude and phase information. This enables timely and cost-saving corrective action when necessary.
For power system-meter designers who do not require the advanced power-quality features of the ADE9000, the ADE9078 energy-metering AFE is available for polyphase utility-grade meter applications.
The ADE9000 analog front-end comes in a 40-lead LFCSP package and is list priced at $6.39 each in 1,000-piece quantities. Samples are available now. Evaluation boards cost $390 each.
The ADE9078 Polyphase Utility Meter, in a 40-lead LFCSP package, is list priced at $5.85 each. Evaluation boards are also available for $390 each.