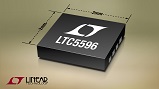 The
LTC5596
from LTC5596 RMS power detector. Source: Linear TechnologyLinear Technology is a high-frequency, wideband and high-dynamic range RMS power detector that provides accurate power measurement of RF and microwave signals independent of modulation and waveforms. The LTC5596 responds in an easy-to-use, log-linear, 29mV/dB scale to signal levels from –37 dBm to –2 dBm, at accuracy better than ±1dB error over the full operating temperature range and RF frequency range, from 200 MHz to 30 GHz.
In addition, the device's response has ±1 dB flatness within this frequency range. A wider frequency range can be used, from 100 MHz to 40 GHz, however with slightly reduced accuracy at the frequency extremes. Its RF input is internally 50 Ω matched from 100 MHz to 40 GHz, making the device very easy to use at any band within its useful frequency range.
The LTC5596 operates from a single 3.3 V supply, drawing a nominal supply current of 30 mA. The detector has built-in improved ESD protection. All pins can withstand up to 3,500 V discharge, human body model.
Two temperature grades are available. An I grade is designed for operation from –40° C to 105° C case. For applications subject to extraordinarily high- temperature operating environments, such as in high-power RF power amplifiers, a high-temperature H-grade is offered with rated temperature from –40° C to 125° C case. The H-grade is 100% tested over temperature, and is guaranteed to have tight tolerance on its slope and intercept point, reducing part-to-part variations. Both temperature versions are available in a 2 mm x 2 mm plastic 8-lead DFN package.
The LTC5596 I-grade is priced starting at $12.50 each in 1,000-piece quantities, while the H-grade starts at $16.95 each. Both versions are now available in production quantities.