It's common to talk about the dismal state of undergraduate education these days, with so many students spending lots of time and serious money, while majoring in vague subjects with little discernible rigor or demands.
Then there's the annual Texas Instruments Innovation Challenge event-- an impressive counter to that view of undergraduate activities. This contest is a year-long process, where teams of engineering-college students conceive of, design and build sophisticated projects. What's interesting is the project ideas themselves, plus the student reports on the design they did, the problems they encountered and where they fell short (some projects do not reach completion but are still eligible for entry). Some of the projects appear "frivolous" but still technically advanced while others address more-serious issues, such as an advanced prosthetic arm.
It's a very impressive hands-on demonstration of real projects and creativity, with significant circuit and software realities. You can read their detailed reports at the links below, which include objective(s); design details (schematic, software, BOM, PC board layout); rationale for decisions made; real-world problems encountered and changes made to understand, accommodate and work around them; and even frank acknowledgements of where the results fell short and why.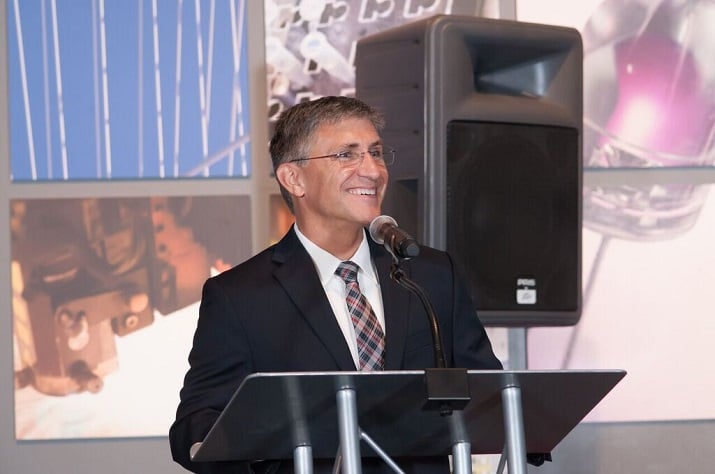 Nearly 180 teams entered technology solutions this year, with three final teams recognized at the annual award ceremony on July 19 in the TI Engineering and Innovation Hall at the Perot Museum of Nature and Science in Dallas, Texas. First, second and third place winners, as well as winners in specific categories, such as "Best chance at commercialization" and "Best humanitarian project" were announced by Peter Balyta, Ph.D., president of TI Education Technology.
Cash prizes were awarded to the top three winners to help further the development of their design or to go toward academic pursuits: $10,000 for first place, $7,500 for second place, $5,000 for third place and $1,000 for categorical prize winners. Winning projects were selected and judged on factors such as quality of the design, written documentation, and effective use of TI technology and components (given the broad TI portfolio, that is not a limiting requirement):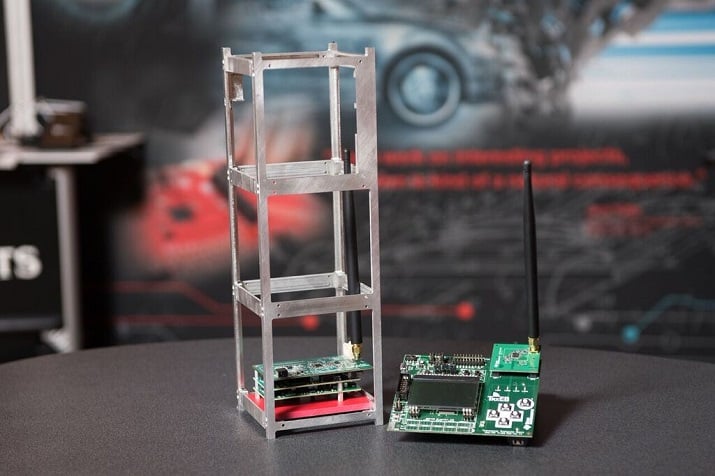 First-place winning project was the TSat RF Satellite Communication project from Texas A&M, which will be used to conduct low-Earth orbit research. Image source: Texas Instruments1. First place: Dakotah Karrer, Vince Rodriguez, David Smith and Trent Tate from Texas A&M University were named the overall winners for their project, TSat RF Satellite Communication. The students worked with Texas Space, Technology, Applications and Research (T-STAR) to create a prototype of a space communication system, which will be used to conduct low-Earth orbit research, a crucial need for growing space exploration efforts. The critical long-range wireless communication for the satellite is provided by TI's Sub-1 GHz CC1120 RF transceiver with the CC1190 RF front-end amplifier which provides reliable communication and data from the T-STAR satellite to an Earth station.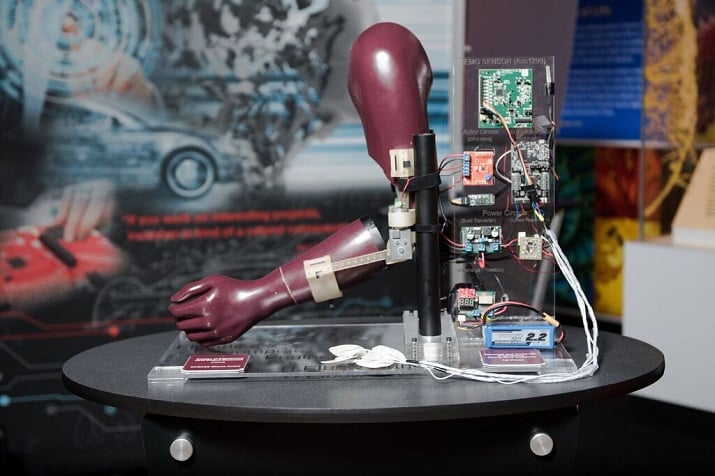 Second place, also from Texas A&M, was a p\powered, programmable Elbow Orthosis which helps to stabilize, limit and assist elbow movements to restore upper-arm functionality. Image source: Texas Instruments 2. Second place: Awarded to Texas A&M students David Cuevas, Nathan Glaser, Joe Loredo and Rafael Salas for their Powered, Programmable Elbow Orthosis. The brace-like device uses a TI ultra-low-power MSP432™ microcontroller (MCU) to stabilize, limit and assist elbow movements to restore upper-arm functionality to users suffering from a range of injuries or disorders which weaken muscles and muscular activity.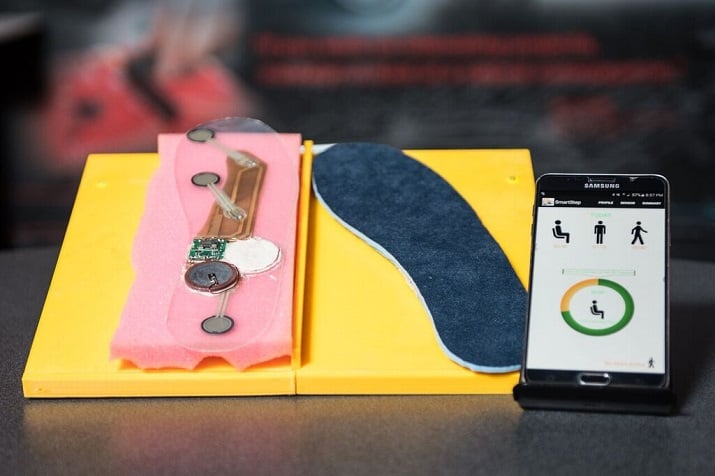 Third place went to a team from the University of Alabama for their SmartStep, a device which wirelessly monitor a user's activity through the insole of their shoes. Image source: Texas Instruments 3. Third place: Matthew Bries and Nagaraj Hegde from the University of Alabama for SmartStep-- a device that uses a TI Bluetooth® low energy CC2540 wireless MCU to wirelessly monitor a user's activity through the insole of their shoes, which is displayed to the user through a smartphone app the team developed. The SmartStep is 99-percent accurate in detecting when a user is sitting or standing, two activities that are difficult for many commercially-available activity trackers to distinguish.
The winners of the category prizes were:

I was a judge several years back, and met many of the student entrants at the final ceremony. Each year, the work these student do is both impressive and inspiring—there are so many hard-working, innovative and "getting hands dirty" engineering students out there doing great work.
You can learn more about the TI University Program and the TI Innovation Challenge at www.ti.com/university.