Engineers, designers, scientists and doctors at Drexel University have all teamed up to produce biomedical textiles to create a new line of smart clothing that could potentially save lives.
Electrical and computer engineer Kapil Dandekar, industrial and fashion designer Genevieve Dion, and OB-GYN Owen Montgomery received support from the National Science Foundation (NSF) to incorporate RFID technology into a line of "belly bands" for women with high-risk pregnancies. The bands continuously track data and alert the doctor's office via internet if a woman start contractions. There is even a smaller version in the works for babies at risk for sleep apnea.
There are a variety of medical conditions that could benefit from continuous patient monitoring and treatment, but up until now it has been impractical to bring to life as current medical equipment tends to be heavy and bulky.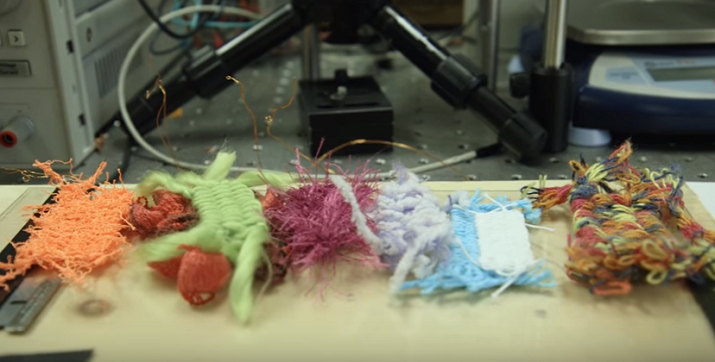 Developed at the intersection of engineering, medicine and design, these examples of new human-centered service technology show vast potential to improve healthcare. (Image via NSF)
Recent advancements in specialized materials and fabrication technologies have now opened the door to these new opportunities to create garments that double as sensors and actuators for biomedical applications.
Even though knitting seems like an ancient pastime, it is actually very popular in the field of wearable electronics and could become a widespread method of construction for smart textiles in the future, according to the NSF award abstract for this work.
The fiber content of the bands is similar to those used in active wear. The actuators and sensors are composed of smart materials, strategically placed in the clothing to cover only a small percentage of the material used.
The project recruits the researchers' knowledge of fabric-based connectors, microwave antennas, super capacitors and robotics to create smart yet comfortable clothing, and provide unobtrusive sensing and treatment options that are not currently possible.