KAIST researchers developed a wearable bracelet that uses sound augmentation to engage children in outdoor play while employing digital tech of the modern world. The team investigated how sounds influence children's play.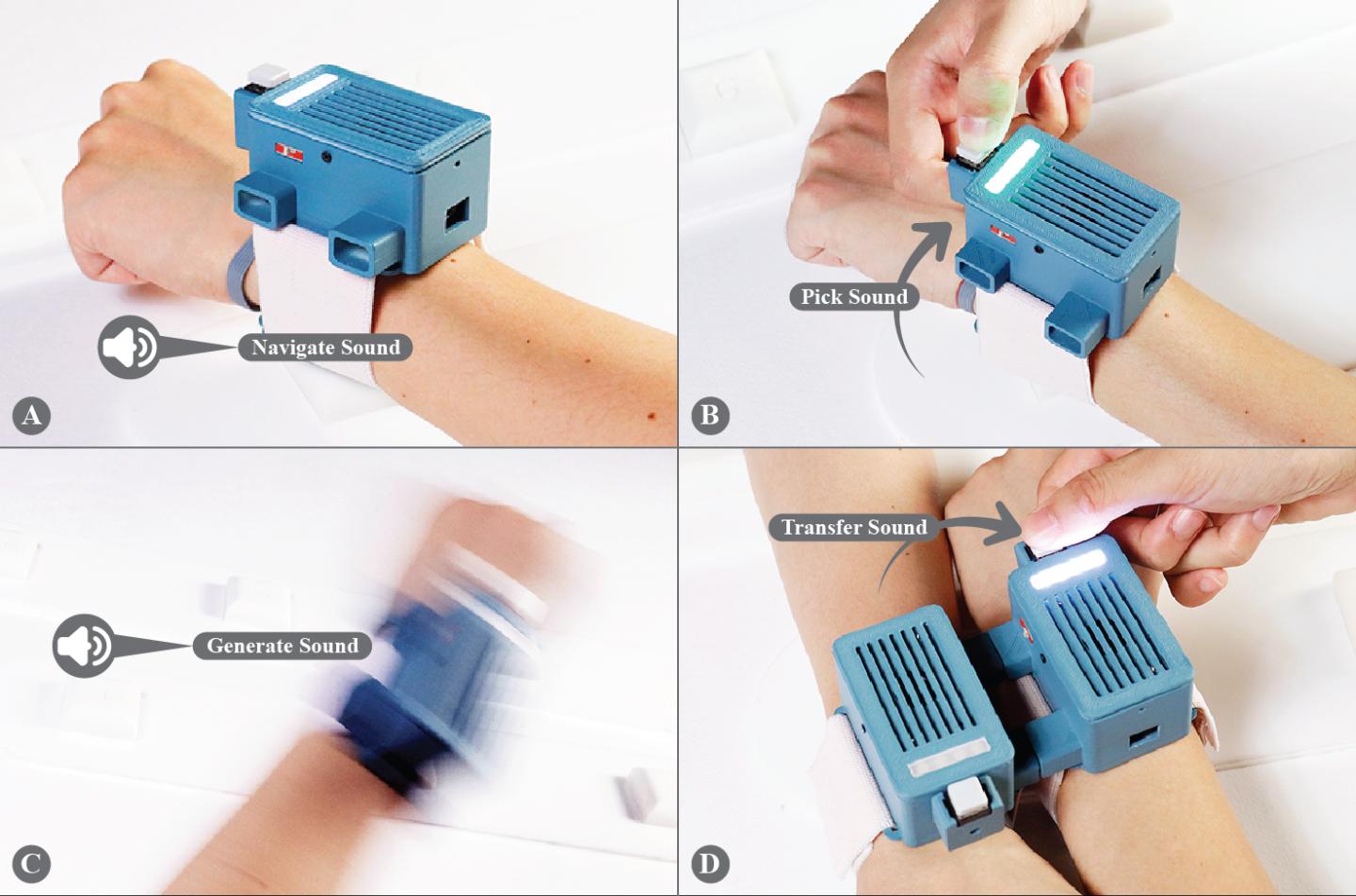 SoundWear: Effect of Non-speech Sound Augmentation on the Outdoor Play Experience of Children. Source: KAIST
The researchers noticed a concern among parents about their children spending the majority of playtime watching TV, playing video games or on mobile phones. With all these activities, children spend most of their time with their heads down. Before modern technology, children used to engage with more with outdoor play, which is believed to be essential to a child's physical activity, imaginative activity and developing social skills. Researchers wanted to bridge the gap between modern technology and classic outdoor play.
Sound is beneficial to motivating a child's play by facilitating imagination and enhancing their social awareness with its ambient and omnidirectional characteristics. Until now, there have been few studies that explore sound interaction to augment outdoor play. This is due to sound's abstractness in open, outdoor spaces.
The team's bracelet wearable device is called SoundWear. SoundWear uses non-speech sounds as the core digital feature to encourage children to broaden their imaginations and improvise outdoor games.
During testing, children using SoundWear were allowed to explore sounds on SoundPalette, a free sound choice app, to pick a sound. Children then swung their arms to generate sound and they could transfer the sound between outdoor smart devices.
The results showed that augmenting playtime with every day sounds triggered children's imagination and resulted in play. Instrumental sounds were integrated into outdoor games while maintaining the play benefits in physical, social and imaginative ways. The gestural interaction of SoundWear and the open choice of SoundPalette helped children gain a sense of achievement and ownership over the sound. Children were physically and socially active the entire time they were playing.
The team hopes that SoundWear and this research can help parents and teachers make informed decisions on children's play while incorporating new media into classic outdoor play.
A paper on SoundWear was published in the Proceedings of 2020 ACM Designing Interactive Systems Conference.