We have seen this before. A dark horse pops up on the edge of the radar screen with a new technology. It races ahead with innovation, passes well-known companies that thought they had a safe lead, grabs consumer attention and spurs widespread market adoption. The landscape shifts, and there is no way back.
It happened with desktop computers, laptops, MP3 players, digital cameras, flat screen televisions and smartphones. Now, it's happening with lighting products that have remained mostly unchanged and unchallenged for more than 100 years.
And, here, too, there is the story of an unlikely competitor chipping away at the industry's resistance and pushing the river to drive higher LED adoption rates.
Building Off Technology
Cree Inc. is lighting up the North American market. Not your traditional bulb or fixture maker, the Durham, N.C. company, with roots in LED component manufacturing, has become one of the region's top three LED lamp and luminaire providers, going head-to-head with brands such as Acuity, GE, Osram and Royal Philips.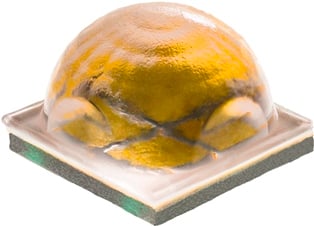 The XLamp XHP50, redefining performance to radically lower system cost. Source. cree.comThe 2011 acquisition of Wisconsin-based Ruud Lighting, Inc., an industrial, commercial and residential lighting fixture manufacturer, helped Cree better position itself in the luminaire market and extend a LED footprint it was establishing among commercial, municipal and industrial customers. But, it was Cree's 2013 announcement that it would sell LED bulbs that broke the $10 retail price point at big-box retailer The Home Depot to convert price-sensitive consumers from incandescent bulbs to LEDs, which caught analysts' attention, surprised the industry, and made Cree a household name.
"It really was a shake up in 2013 when Cree first announced they were making lamps," says Jamie Fox, principal analyst for Lighting and LEDs at IHS Technology. "They kept it fairly quiet, but as soon as they announced it, it became one of the most interesting stories of the year at that time."
It was interesting because Cree was a supplier selling its packaged LED components, LED chips and silicon carbide materials to lighting product and systems makers–companies Cree was now going to have to compete with.
The entry into lighting fits Cree's underlining goal–100% LED adoption through its strong LED innovation focus, says Mike Watson, Cree's vice president of product strategy.
In the mid-2000s, the company realized that LED lighting was the market of the future. Before that it had been focusing on components such as e backlighting for TVs and phones. "We were one of the first companies to focus on LED," says Watson. "Once you're committed to that as a core strategy, then you have to look at how you will drive 100%t LED adoption. If the traditional lighting companies are resistant, which they were, and had been until very recently, then you have to come up with strategies to make them less resistant, or decide to do it yourself and show the way forward in order to drive competition and adoption. When you're talking about $1 trillion [worth] of installed lighting in the world and all those lights needing to be replaced, it's an interesting enough market to say let's try to go there."
In-house chip design, materials management and component manufacturing expertise gave Cree the footing it needed to leap into the luminaire and lamp space and compete with leading companies that did not have those technology capabilities.
"Vertical integration gives them efficiency gains, and saves them a bit on cost. It also gives them control in producing LED chips they know will be relevant to the lighting products they are making," says Fox, adding that another advantage is deeper understanding of what's wanted and needed in the end-market.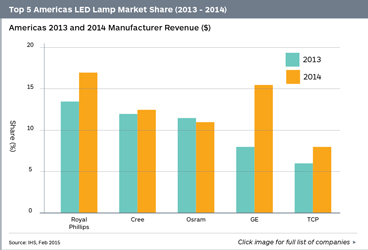 Americas LED Lamp Market Share - 2013-2014. Source: IHSBesides winning a share in its key North American market (see charts), Cree's revenue and product portfolio has noticeably shifted in the past few years.
LED chip and component revenue rose to $833.7 million for the fiscal year ended June 29, 2014, according to company's Securities and Exchange Commission's annual 10-K filing. This was up from $801.5 million the previous fiscal year and $756.9 million in fiscal 2012. However, LED products represented only 51% of revenue in fiscal 2014, down from 58% the previous year and 65% in fiscal 2012. In the lighting segment, revenue climbed significantly to $706.4 million in fiscal 2014, and accounted for 43% of revenue; in fiscal 2013, lighting product revenue was $495.1 million, or 36% of sales, and $334.7 million, or 29% of sales, in 2012. (The remaining 6% of Cree's revenue comes from its power and RF chip business, which will soon go up for an initial public offering; the IPO will enable Cree to focus on its LED and lighting businesses, while creating a dedicated focus on the Power and RF business, according to a recent statement.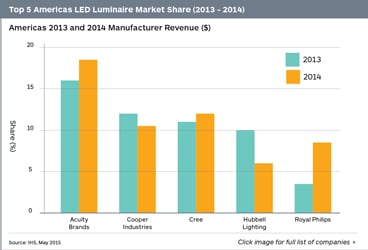 Americas LED Luminaire Market Share - 2013-2014. Source: IHSManaging Challenges
Obviously, though, success never comes without its challenges.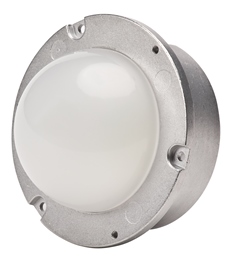 The LMH2 module delivers efficacy of 125 lumens per watt. Source: cree.comOne such obstacle was dealing with OEMs in a competitive tangle. On one hand, their procurement teams were buying LED components from Cree, while on the other hand, their marketing teams were competing for lighting products sales. Similarly, the LED division might also be working on a product design for one of their systems customers that competitively affect Cree's lighting group.
"You see angst on both sides occasionally. We try to let both sides of the business operate as independently as possible while leveraging the expertise we've gained from each other from a technology perspective," says Watson. "Whether we are competing with our competitors on the lighting side and supplying them on the component side, we strongly believe our competitors will end up buying from the source that provides them with the best value and gives them a chance to effectively compete in the marketplace. Our competitors may not like the fact that we are in the lighting business, but we believe they will still buy our components because our component business provides them with the best product, and as long as they get the best product, we'll do ok."
In any rapidly changing industry, companies also must figure out how to manage their product portfolio mix, optimize manufacturing capacity and constantly evaluate inventory-holding targets; issues that Cree had to deal with recently.
"The company recently burned $33 million, or 10%, of its inventory as part of a planned inventory reduction program, says Chuck Swoboda, Cree chairman and CEO, during an analysts' conference call, reviewing financial results for the quarter ended March 29, 2015. While some of the inventory reduction targets old products in the distribution channel, Swoboda also says that an "unfavorable product mix" was another factor affecting margins during the quarter.
"The inventory reduction strategy is having a near-term impact on margins and putting pressure on gross profit margins," he says. . "But, it's a prudent choice, and in line with our strategy to innovate and rapidly bring new products to market to meet evolving demands of customers."
Innovating the Future
Innovation is what Cree is building its future on. In addition to research and development resources, the innovation focus is supported from a design, supply chain and manufacturing perspective as well, adds Watson.
"One belief that rings true across all Cree's units is to not compromise on the performance and quality of the product going to the customer," Watson says. That means not looking myopically at cost reductions or buying cheaper materials or redefining manufacturing practices in a way that hurts innovation.
"Yes, you have to be a smart company and grow revenue and operating leverage, but you can't do that by sacrificing performance or the core value of the products. If you sacrifice the core performance of the product that is a recipe for failure. And once you start compromising on core performance, then you risk stopping LED adoption," he says.
This trickles all the way through the company.
"For instance, the company follows a design for manufacturing strategy, and tries to use the same or similar drivers across different products while turning out new product design quickly by re-using what can be re-used," he says. It also means going beyond looking for 3 to 5 %year-over-year-cost reductions on the same semiconductor products year in and year out. "Cost reductions aren't always enough. You have to innovate at the product level. You can sometimes achieve great cost reductions without sacrificing performance, and, in fact, you can often get improved performance."
For manufacturing, one of Cree's priorities for 2015 is to expand their relationships with some select manufacturing partners, Watson says.
A majority of Cree products are made at the company's factories in North Carolina, Wisconsin and China, and the company uses contract manufacturers for certain aspects of product fabrication, assembly and packaging, according to the company's secretary documents.
By expanding relationships with contract manufacturers for more standard components and products, Cree will enable its own LED and lighting factories "to focus on technology that's not otherwise available in the market." "It will help us gain operational flexibility and better focus on what we're good at, "says Watson.
All that, he adds, will continue to move the market forward.
"In a short couple of years, we've gone from a lighting market that was hesitant to provide LED lights to the point now where customers see that it doesn't make sense to buy an alternative technology right now," Watson says. "Less than 20% of the entire market is LED today, so there is a lot of LED adoption still to be made."
To contact the author of this article, email engineering360editors@ihs.com