Texas Instruments (TI) has introduced a reference design that adds Wi-Fi connectivity to an electric vehicle (EV) charging station. Electric vehicle owners will now be able to remotely monitor and control the charging of their vehicles from just about anywhere with Wi-Fi, presenting dozens of potential use cases from home automation to checking the availability of nearby public charge points.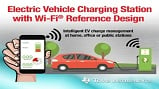 Wi-Fi Reference design for EV charging station. Source: Texas Instruments. Battery technology advancements and government regulations have resulted in a growing number of new electric vehicles around the world. But vehicle makers still need more charging stations to make it easier for drivers to charge their vehicles. The reference design uses TI's SimpleLink™ Wi-Fi wireless microcontroller technology that allows design engineers to create stations that intelligently charge at non-peak times or detect and communicate when a charging station is available.
One barrier to widespread EV charging station adoption is the amount of time it takes to charge a vehicle. The reference design supports Level 1 charging, which is compatible with household outlets, as well as Level 2 EV charging, which helps vehicle owners tap into higher-current (15 A to 30 A and higher) connections available in commercial office buildings. Level 2 chargers typically take up to eight hours to fully charge the vehicle if the owner wants to plug it in while at work.