Texas Instruments (TI) has introduced a reference design that adds Wi-Fi connectivity to electric vehicle (EV) charging stations.
The reference design will allow EV owners to remotely monitor and control the charging of their vehicles from anywhere with Wi-Fi. Allowing this connectivity opens up numerous potential use cases from home automation to checking the availability of nearby public charging ports, TI says.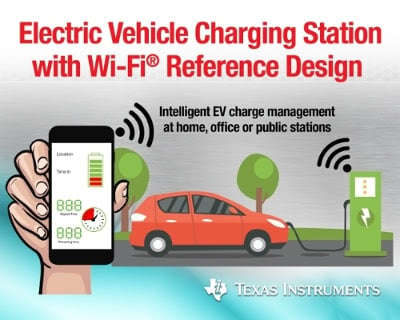 Adding Wi-Fi to charging stations will give electric vehicle owners the ability to monitor the charging of the car and to find nearby stations. Source: TI While there are a growing number of new EVs on the market around the world, there is still a need for more charging stations to make it easier for drivers to charge everywhere around the world. The reference design uses TI's SimpleLink Wi-Fi wireless microcontroller technology that intelligently charges during non-peak times and detects and communicates when a charging station is available.
The reference design supports Level 1 charging (for household outlets) as well as Level 2 EV charging, which allows owners to use connections in commercial office buildings. Level 2 chargers typically take up to eight hours to fully charge the vehicle. TI says later this year it will introduce a Level 3 EV direct-current charger reference design scalable to 600 V and 400 A that cuts charging times to 20 to 30 minutes—which the company says is enough time to stop at a Wi-Fi enabled restaurant or commercial shop that has a charging station.
To contact the author of this article, email engineering360editors@ihs.com