Signal Transformer, a Bel group company and global manufacturer of custom and standard transformers, chassis and PCB mount, high-frequency chokes and inductors, SMD inductors and wireless charging coils, announces the latest product innovation for power over Ethernet (PoE) applications, the SPoE surface mount transformer series. SPoE is a new product for equipment or devices connecting to an Ethernet or enterprise network and relies on Ethernet cables to receive power and digital data signals for operation and processing, respectively.
Today's internet of things (IoT) expansion is creating a high demand for network devices connecting to the internet via Ethernet cables. In turn, PoE connectivity is increasingly rising in the smart home/smart LED lighting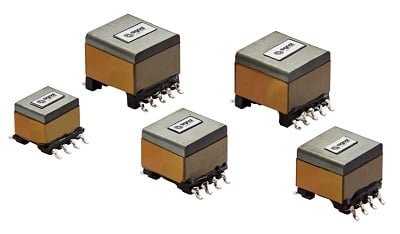 Source: Signal Transformermarket. PoE transformers are also used in conjunction with other circuitry within the equipment for isolation and splitting the two power/digital signals. Specific applications include VoIP phones, IP cameras, wireless access points, IPTV decoders and network routers, smart home appliances and smart LED lighting, healthcare, and other connected security cameras, wireless data systems, and information displays, as well as PoE switches, extenders, splitters and injectors.
Signal's SPoE transformer series, featuring Flyback topology, is well suited for design engineers seeking a solution optimized for high-density boards, as well as competitively priced for end products. Other key specifications include a 250 KHz operating switching frequency, input voltage range from 9 V to 57 V, primary to secondary isolation, 1500 V rms operational. Low leakage inductance, 8 V and 12 V, 20 mA auxiliary windings are other feature offerings to pair with control ICs for power switching applications. There are five power levels (3, 7, 10, 13 and 27 watts) in three SMD platforms (EP7, EP10 and EP13) to choose from.
The SPoE surface mount transformer series is available with tape and reel packaging through our distribution network, including Digi-Key and Mouser.