When we think of virtual reality, we typically think of entertainment applications for the technology like movies and video games. Though virtual reality technologies are making their way into other realms like the medical field, little has been talked about when it comes to the role of VR in the workplace. In fact, virtual reality actually helps companies save money when it comes to testing new technologies. This is the case with major automakers who model new vehicles in VR environments to make adjustments before spending the money to create a real model.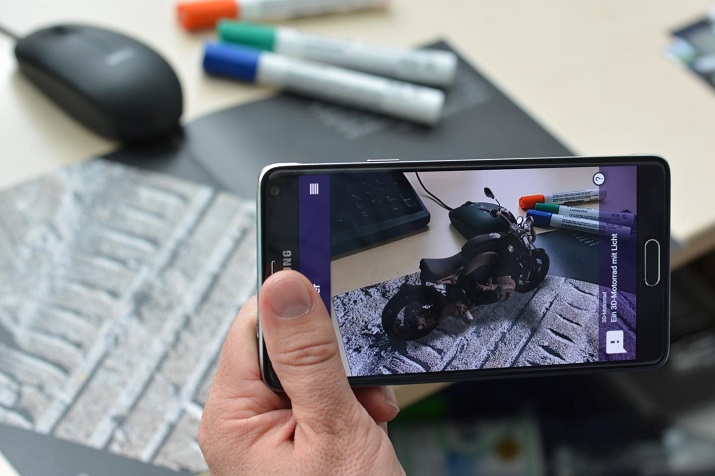 With special apps like this, extra information from print media can be represented as augmented reality on a smartphone. Here, it appears as if a motor-cycle were parked on top of the desk. (Image Credit: CITEC / Bielefeld University)
It also enables trainees and students to quickly and intensively learn on-the-job skills, like in the case of a virtual hospital.
This month, experts from around the world are coming together to discuss some of the latest developments in the augmented and virtual reality department at a conference called the Cluster of Excellence Cognitive Interaction Technology (CITEC) of Bielefeld University.
Visitors will be able to experience the research prototypes firsthand and learn about virtual reality systems and how to bring them into the workplace. One example of this is a product from the software company Virtalis, which allows users to interactively discuss and modify 3-D constructions (such as those used for machines) in real time.
"With virtual reality, we can generate spaces and situations that help people learn to perform occupational duties," said computer scientist Dr. Thies Pfeiffer, who, along with his colleagues, is organizing and leading the conference at CITEC. "In virtual hospital rooms, for instance, aspiring healthcare professionals can train more quickly and cost effectively in routine tasks like inserting an intravenous injection."
According to Pfeiffer, training in reality requires a plethora of costly resources, as well as a lot of space. In VR, people can practice at their own paces by simply using a pair of VR glasses and the appropriate software. This allows for situations to be generated in which the users are more immersed than if they were only to practice in front of a computer monitor.
Some workplace VR examples include a virtual training space called "ICSpace" and smart data glasses from the Adamaas project. In ICSpace, a virtual coach instructs users about the correct way perform sports exercises, as well as immediately points out mistakes. The data glasses developed for the Adamaas project help those with cognitive disabilities to successfully complete daily living tasks by providing assistance, for example, working a coffee machine.
The researchers will also discuss how to implement new technologies, such as a reality simulator, which can test both hardware and software in virtual reality. For example, the simulator would be ideal for programmers who develop apps for smartphones.