Most of us think of virtual reality (VR) as solely for games — but the technology can be — and is — used effectively in healthcare. From dentists to psychiatrists, patient virtual reality is taking the sting out of going to the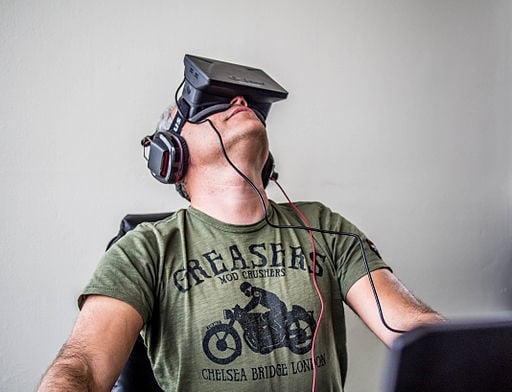 VR headsets such as Oculus Rift can help ease pain associated with medical procedures. Source: Sergey Galyonkin/CC BY 2.0doctor. More VR headsets are also being produced; for example, Facebook's Oculus announced plans on Monday to launch its first VR headset in China as part of a partnership with Chinese phone maker Xiaomi. As such eyewear becomes increasingly popular, more applications will be developed.
Dentistry
Some people avoid or delay dental care because they experience fear and anxiety; the expectation of pain prevents many from seeking dental care. A study in 2015 demonstrated that distracting children with 3D video glasses during administration of local analgesia resulted in the lessening of anxiety. But a more recent study showed that the content of the VR was instrumental in having a calming influence on patients.
A group that was to undergo a dental procedure was split into three different groups: One that had no VR, one with VR of a beach scene and one with a serene city locale.
VR nature can be used in combination with traditional analgesics. While previous research found that the quality of the VR equipment is important in patients' pain reduction, the latest research concluded that the content of the VR was critical: Of the three groups, only the patients experiencing the coastline felt — and recollected — less pain.
Neurology
In mid-2016, Duke University published the results of a 12-month study of eight paraplegic patients that suggests VR technology can help to restore mobility in patients with spinal cord injury. Parts of the brain associated with leg movement were simulated through an avatar on the VR headset, and patients controlled their minds to produce leg movement. An Oculus Rift headset was used with an electroencephalogram (EEG) cap to measure brainwave activity, and a vibrating tactile feedback device gave patients a realistic experience.
In a separate study at the University of Texas, autistic children used VR training to help calm feelings of being overwhelmed and anxious in social situations. The virtual reality training platform provided a safe place for participants to practice social interactions without fearing consequences. Participants who completed the training demonstrated improved social cognition skills and reported better relationships. Neurocognitive testing showed significant gains in emotional recognition, understanding the perspectives of others and the ability to solve problems.
Psychiatry
Virtual reality exposure therapy is aimed at providing relief from post-traumatic stress. Researchers at the University of California's Institute for Creative Technologies add to the typical exposure therapy by leveraging virtual art assets originally built for the X-Box game, "Full Spectrum Warrior." Currently, the series of virtual scenarios is designed to represent relevant contexts for VR exposure therapy, including a Middle-Eastern themed city and desert road environments. The visual stimuli presented in the VR head-mounted display is augmented by directional 3D audio, vibrations and smells that can be delivered into the simulation. Instead of relying only on imagining a particular scenario, a patient can repeatedly experience it in a safe, controlled virtual world.