The Amphenol Industrial Products Group has enhanced its ATHD series to include stamped and formed contacts for size 12 terminals that are rated to 25 A. This heavy-duty, single-pole, rugged, in-line connection system is designed to replace splices as well as provide power wherever needed.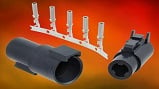 ATHD connector for heavy-duty industrial applications. Source: Amphenol
The ATHD series size 12 terminals are also available to crimp to size 16 cable in both the machined and stamped and formed contacts. They can offer the highest amperage for a heavy-duty connector when fitted with Amphenol's machined RADSOK terminals, up to 35 A continuous power. The ATHD series continues to offer the size 8 system with machined contacts with amperage ratings up to 70 A continuous power with RADSOK as well.
Ideal for rugged, high-vibration applications found in the heavy equipment and mining markets, these sealed, thermoplastic connectors are field installable and repairable, eliminating the need for costly, non-repairable splices.