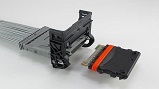 SmartSeal connector. Source: TE Connectivity TE Connectivity (TE) Industrial and Commercial Transportation's SmartSeal connector (TE part number 2305186-1) is designed to be the next-generation ECU connectivity solution. This connector mates directly to an over-molded PCB ECU housing, eliminating the need for a separate PCB header and sealed enclosure, ultimately saving application space and costs. The rugged SmartSeal connector is designed to withstand the demands of the two-wheeler, ATV/UTV, leisure marine and recreational vehicle markets.
The SmartSeal connector is a 44-position connector that can easily be adapted for lower-pin-count ECU applications by using TE's blind plugs (TE part number 2289990-1). It is compact (99 mm x 79.9 mm x 26.7 mm) and utilizes a lever slide-lock mechanism that secures the connector to the ECU. The SmartSeal connector is constructed of heavy-duty thermoplastic designed to withstand severe vibration and mechanical shock. The connector is environmentally sealed to prevent dust, dirt and moisture from contaminating connections.
The SmartSeal connector uses TE's high-performance single-piece terminals (TE part numbers 1-2236793-3 & 2291193-3). The contacts feature a single contact beam and accommodate a wide range of wire sizes (0.5–0.75 mm² and 0.3–0.35 mm²). The proprietary terminals incorporate an innovative wave-structure contact zone, which optimizes current distribution and flow. Due to the terminals' unique wave-structure design and spacer-actuated pressure, the mating force required to achieve extreme levels of performance is reduced. The design also helps to reduce surface disruption and wear on the plated PCB contact zones.
TE's SmartSeal connector is currently offered as an off-the-shelf solution when paired with Bosch's EPM44 ECU. TE's engineers are ready to collaborate with OEMs to adapt and utilize the SmartSeal connector's technology to suit specific small-engine-vehicle ECU applications.