Industrial Electronics
An engineer's guide to foot switches
01 August 2019
Sponsored content
The purpose of a foot switch is to provide the user with a comfortable, hands-free way to activate one or more processes on a machine or device. These switches or pedals provide foot-activated control of the electrical interface between the operator and the machine's control system, freeing the user's hands to perform other tasks.
There are many different types of available foot switches. The main factors in selecting the proper switch for an application include: the environment, switching functions and electrical rating requirements.
Heavy- vs. medium-duty applications
Foot switches can be broken down into two major categories: heavy-duty and medium-duty types.

Figure 1. Heavy-duty, uncovered and covered, metal foot switches for industrial applications. Source: AltechHeavy-duty foot switches are made for harsh industrial environments such as metalworking and woodworking applications. They are rugged, usually featuring metal construction, although some may be plastic. The switches are available with or without a protective cover or hood, which provides protection against damage and accidental activation. Covers are usually oversized to allow activation by operators wearing protective boots. They are often mounted in a fixed position, so weight and mobility are not a concern.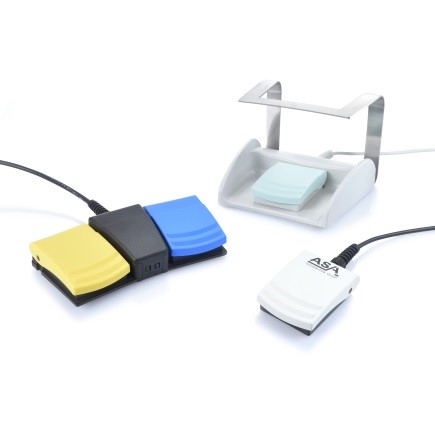 Figure 2. Medium-duty foot switches for light machines and medical equipment. Source: AltechMedium-duty foot switches are intended for use with light machinery and medical equipment. Since these applications sometimes require mobility and portability, they usually have a more compact design and are made with plastic to reduce weight. Options include covers, foldable carrying handles and metal bases to improve stability. Multiple pedal colors and printed symbols are also available, which add to functionality by designating and indicating pedal assignment.
Foot switches for medical applications are significantly different from those of an industrial-grade unit. They require unique designs for safety, reliability and hygiene. With the presence of liquids common in many medical applications, foot switches are typically classified using the ingress protection (IP) system, defining the level of sealing effectiveness of electrical enclosures.
Multiple pedals
The number of foot switch pedals depends on the manufacturer and switch type. Some manufacturers offer modular construction, which can link many foot pedals together. The only limiting factor is the cabling and the practicality for the application.
Contact configuration
The configuration or arrangement of the contacts will change depending on the manufacturer and model. However, some typical configurations are identified in the table.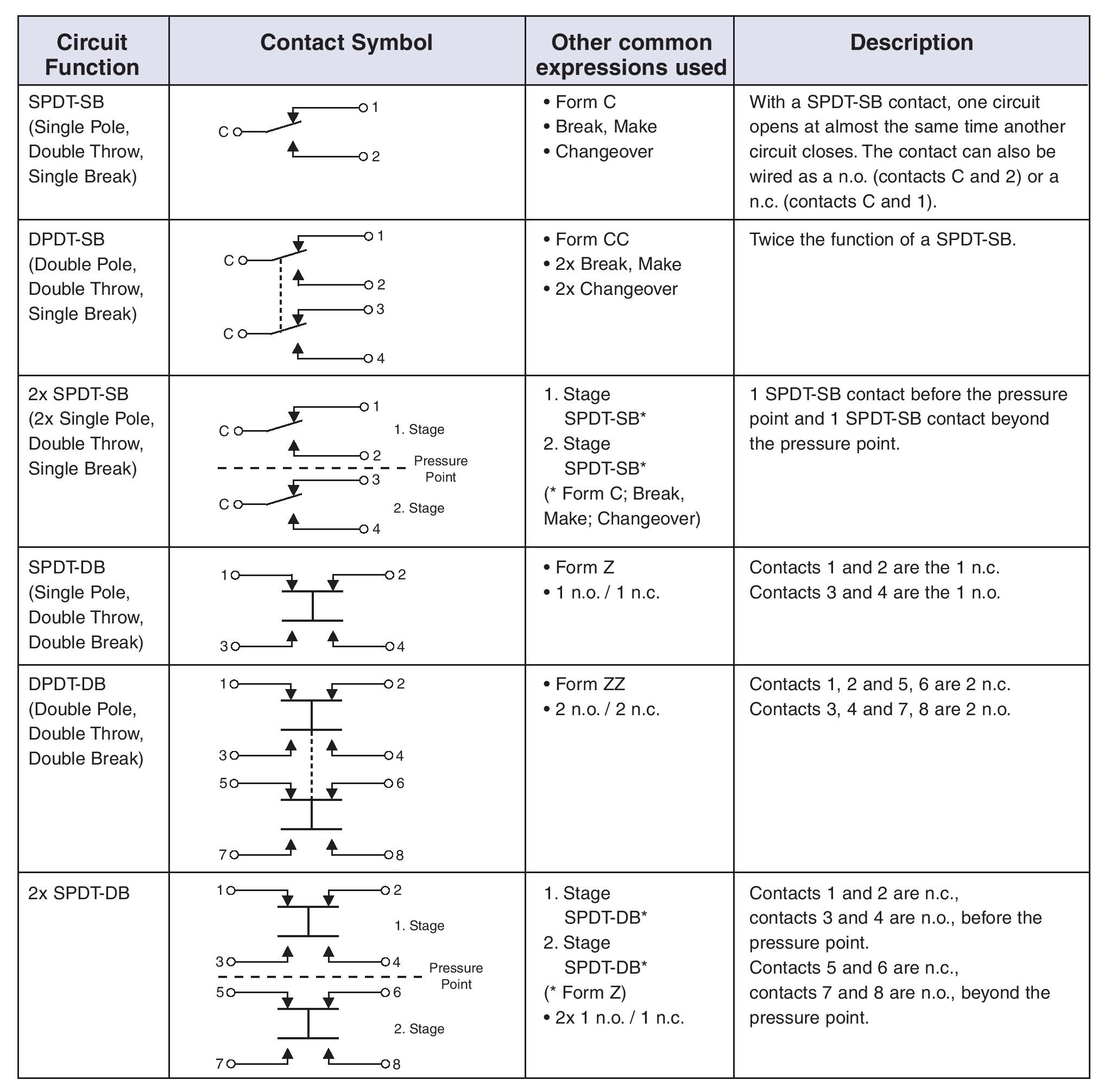 Table 1. Contact configurations. Source: Altech
Contact action
The actions of the contact describe what happens when the pedal is pressed and when it releases.
Momentary: When the pedal is pressed, the contacts change state. When the pedal is released, they return to their original state.
Maintained (also called latching): When the pedal is pressed, the contacts change state. When the pedal is released, the contacts stay in that state until the pedal is pressed again (returning the contact to the original state).
Two stage: When pressure is applied to the pedal, the first set of contacts change state. Depressing the pedal further, past the first pressure point, results in the second set of contacts changing state. Releasing the pedal causes the contact to return to its original state in the reverse order.
Slow-action and snap-action contacts
Slow-action contacts utilize a simple slide system that is driven directly by the downward force of the pedal mechanism. Snap-action contacts have a spring-loaded slide system that snaps the contacts open or closed after a trip point is reached.
Contact plating
The most common contact-plating material is silver-nickel plating, which is used in general applications. Gold plating is also sometimes used in low-current applications (e.g., 0.1 amp), but caution should be taken because exposure to high voltages can cause the gold material to degrade.
Electrical considerations
As with most dry contact switching devices, the maximum switching power of standard foot switches is rated in voltage and amperage. Some foot switches also reference horsepower, although it is more accurate to use a motor full load amperage chart to determine the maximum size a foot switch can control. The switching power needed for the application should also be considered when selecting the proper cable with the foot switch.
Generally, switching contacts are either normally closed, which means that they are closed when the pedal is released and opened when the pedal is depressed, or normally opened, which means that they are opened when the pedal is released and closed when the pedal is depressed. Some foot switches are also available with an analog output, providing a proportional 0 to 5 V, 0 to 10 V, 0 to 20 mA or 4 to 20 mA output. There are also switches that provide a USB output, which can be programmed to duplicate a keystroke response.
Cable type
The only limiting factor in cable selection is the voltage or amperage rating and the diameter of the conductors and cable jacket. The maximum wire size that the foot switch accepts should be listed in the product's technical information. Typically, a cable with a tough jacket material is preferred to protect against abrasion. Braided shielding is also a consideration to prevent electrical interference.
Wiring the switch
Many foot switches are available with screw terminals, solder terminals or fast-on tabs to facilitate wiring. Some manufacturers offer foot switches pre-wired with standard cable or can custom wire with a choice of cable and circuit configuration. Typically, manufacturers can offer cost savings in wiring, since they have specialized equipment which terminates the foot switches more efficiently.
Connectors
Connectors allow the foot switches to be easily installed or replaced. Connector selection is typically based on the number of poles, voltage and amperage and the installation environment. In some cases, an extra closed circuit is added to monitor that the connector is plugged in.
Strain relief
Strain reliefs, or cable glands, seal the cable as it enters the foot switch. They can also provide mechanical protection by helping to anchor the cable into the foot switch and prevent it from exceeding its maximum bend radius. There are a large variety of cable glands available, including dome trumpet and spiral styles.
Safety and certifications
Safety foot switches
Used in industrial applications, safety foot switches are special versions with three pedal positions. The top position is off, the middle position is on and the bottom position is emergency off, which opens the circuit and remains locked in the off position until the reset button is pressed. The operator must maintain contact with the foot switch to run the machine and will either release or fully press the pedal in an emergency.
Protection rating
IP ratings define levels of sealing effectiveness of electrical enclosures against intrusion from foreign bodies (e.g., tools, dust, dirt) and moisture.
Standards
Industrial foot switches typically only require approvals like UL, CSA or cCSAus. The most common standard for medical applications is IEC60601-1. There are also variations of this standard for high-frequency surgical, X-ray and laser equipment. Testing to these standards may be necessary depending on the type of equipment and application of the foot switch.
Summary
There are many applications for foot switches, requiring a significant variance in materials, power specifications, features and certification compliance. Sometimes these considerations are best navigated with the help of an expert.
For more on foot switches, go to Altech's website.
Find Free Electronics Datasheets