InVisage Technologies Inc. has launched the Spark4K near-infrared (NIR) camera sensor. A 1.1-micron pixel, 13-megapixel sensor in a 1/3-inch module, Spark4K features, InVisage claims, the world's highest NIR resolution, delivering 4K video at 30 frames per second.
Applications for the new sensor include depth sensing, 3-D mapping, compositional analysis, authentication and gesture tracking. The device could find use aboard drones, other autonomous vehicles, and in augmented-reality devices that would benefit from extended sensing range and power savings.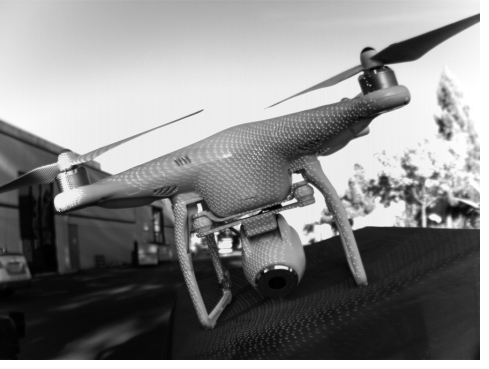 A structured light pattern on a drone shot with InVisage's Spark4K. The sensor's ability to detect variations to infrared light patterns with greater sharpness allows autonomous and augmented reality devices to perform with enhanced accuracy. Image source: InVisage Technologies via Business Wire Spark4K leverages InVisage's QuantumFilm technology platform, which the company says offers five times higher photosensitivity than conventional silicon at the invisible 940-nanometer wavelength.
According to InVisage, the new Spark4K can accurately detect a brighter but shorter LED pulse that instantaneously outshines ambient infrared light to help devices navigate and learn about their environments more accurately in pitch darkness or in direct sunlight. In addition, by pulsing the LED in sync with Spark4K's global shutter, systems significantly reduce battery consumption, enabling more compact, lighter-weight product designs.
Pricing and Availability
Spark4K is sampling now, with mass production scheduled by Q4 2016.