Four years ago, an MIT alumnus and former postdoc Qichao Hu founded a spin-off company called
SolidEnergy Systems
, dedicated to reinventing the battery. Now that company has created a brand-new rechargeable lithium metal battery that provides double the amount of energy that a traditional lithium ion does for your electronics.
Researchers have been working for years to create these kinds of rechargeable lithium metal batteries, due to their energy capacity. Until now, all groups have been unsuccessful in their attempts.
While Hu was working as a postdoc, alongside MIT professor Donald Sadoway, a well-known battery researcher who has developed several molten salt and liquid metal batteries, he helped make key design and material advancements in lithium metal batteries. This is what SolidEnergy's technology is built on.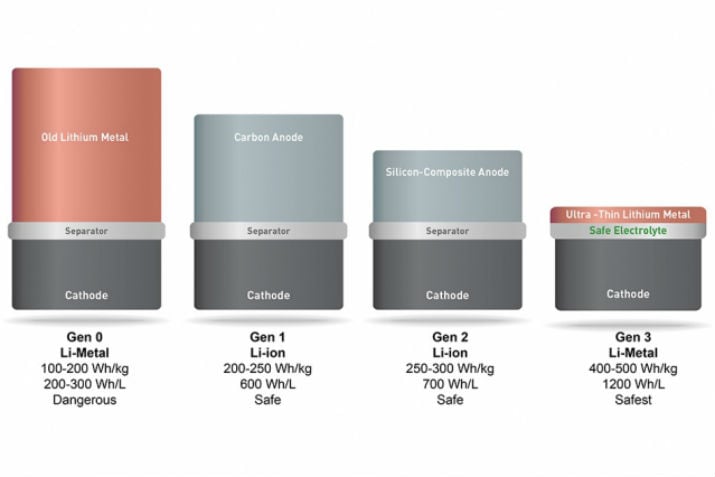 SolidEnergy Systems' battery (located at far right) is twice as energy-dense as the lithium ion batteries used in consumer electronics. (Image Credit: SolidEnergy Systems)
SolidEnergy Systems now plans to commercialize the battery.
The "anode-free" lithium metal battery comes with several material advances that make it twice as energy-dense—but just as safe and long-lasting—as the batteries that are in your smartphone, electric car, wearables, drones and other electronics.
"With two-times the energy density, we can make a battery half the size, but that still lasts the same amount of time, as a lithium-ion battery. Or we can make a battery the same size as a lithium-ion battery, but now it will last twice as long," said Hu, who co-invented the battery at MIT and is now CEO of SolidEnergy.
How It Works
The battery works by swapping out the common battery anode material, graphite, for a very thin lithium-metal foil, which can hold more ions, and, therefore, provide more energy capacity.
By chemically modifying the electrolyte, typically short-lived and volatile lithium-metal batteries become rechargeable and safer to use. The batteries are made using existing lithium-ion manufacturing equipment, so they are scalable, too.
Last October, the company showed off the very first working prototype of a rechargeable lithium-metal smartphone battery with double-energy density, earning over $12 million from investors as a result.
The battery is about half the size of the lithium-ion battery used in an iPhone 6, but offers 2.0 amp hours, as opposed to the 1.8 amp hours in the lithium-ion battery.
SolidEnergy has plans to bring the battery technology to smartphones and wearables by early next year, and to electric cars in 2018, but first it will tackle the drone market this November.
"Several customers are using drones and balloons to provide free internet to the developing world, and to survey for disaster relief," said Hu. "It's a very exciting and noble application."
According to Hu, the new batteries could have an enormous effect on society by making their way into electric vehicles because the batteries will be half the size and weight but still travel the same distance, or even the same size, with more mileage capacity.
SolidEnergy has just moved to its headquarters and is setting up for its November launch.