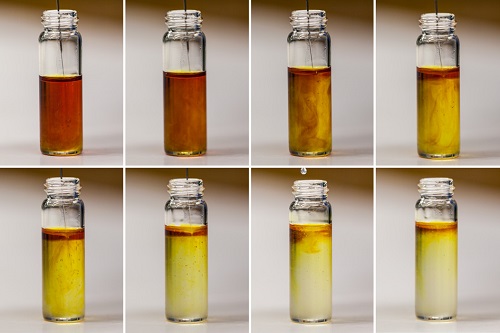 The chemical reaction that occurs during the charging of a lithium oxygen battery using lithium iodide as an additive. Source: MITLithium-air batteries are one of the more promising technologies for the future of rechargeable batteries, providing three times as much power as today's lithium-ion batteries. However, testing of these batteries has produced conflicting and confusing results.
Researchers at MIT took to solving the mystery behind the conflicting results with detailed tests of one of the promising materials for a lithium-air battery—lithium iodide (LiI). This compound is seen as a possible solution to some of the problems in a lithium-air battery such as the inability to sustain many charging-discharging cycles.
Certain studies indicate LiI was found to improve the cycling life of lithium-air batteries but other studies have shown the presence of LiI leads to irreversible reactions and poor battery cycling.
The MIT study explains the discrepancies of some of the other studies suggesting that the material might not be suitable after all. The team examined the role of LiI on lithium-air battery discharge with the compound used outside of the battery, which allowed researchers to zero in on part of the reaction. Another study was done in the battery to explain the overall process.
Ultraviolet and visible light spectroscopy was used to study the reactions fostering the production of a different lithium compound, lithium hydroxide (LiOH), in the presence of both LiI and water. LiI enhances the water's reactivity and makes it lose protons more easily, promoting the formation of LiOH in these batteries and interfering with the charging process. MIT believes finding ways to suppress these reactions might make the compounds such as LiI work better.
The study could provide a path toward selecting a different compound instead of LiI to perform the function of suppressing unwanted chemical reactions at the electrode surface.
Yang Shao-Horn, a researcher at MIT, says the findings could "help get to the bottom of this existing controversy on the role of LiI on discharge. We believe this clarifies and brings together all these different points of view."
However, researchers caution this is just one step in the process of making lithium-air batteries viable for use and there is much more to understand until a consistent process is developed.
The full research can be found in the journal Energy & Environmental Science.