Linear Technology Corporation has introduced the 
LTM4631
, a dual 10 A or single 20 A µModule® (power module) step-down regulator in an ultrathin 1.91 mm LGA package with a 16 mm x 16 mm footprint. The LTM4631 can be placed on a PC board very close to its load, such as an FPGA, while sharing one heat sink covering both of their low-profile packages.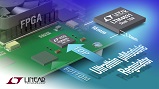 081616_linear_ltm4631
The small, thin package permits the LTM4631 to be mounted on the backside of circuit boards, freeing space on the topside for components such as DDR-QDR memory and transceiver ICs. Examples of applications include plug-in and mezzanine cards in embedded systems, data-storage systems, gateway controllers and 40 Gbps to 100 Gbps networks.
The LTM4631 operates from 4.5 V to 15 V input supplies and regulates an output voltage from 0.6 V to 1.8 V with ±1.5% maximum total DC output voltage error from –40° C to 125° C. Its two outputs operate 180° out-of-phase, each capable of delivering 10 A or 20 A when the outputs current- share. Two devices can current-share, delivering up to 40 A while minimizing input and output ripple current. The device features output over-current foldback and over-voltage protection. The LTM4631 is rated for operation from –40° C to 125° C. Pricing for 1,000 pieces starts at $24.88 each.