Linear Technology Corporation introduces the LTM4642, a dual 4 A or single 8 A step-down µModule® (power module) regulator in a compact 9 x 11.25 x 4.92 mm BGA package. The device operates from a wide input voltage range of 2.375 V to 20 V and regulates two output voltages adjustable from 0.6 V to 5.5 V. Each output is a synchronous buck converter operating at high efficiency. The operating efficiencies for delivering full current at a 1.8 V load from input supplies of 12 V, 5 V and 3.3 V are 88%, 91% and 93%, respectively.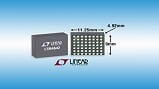 Linear Technology LTM4642 step-down regulator. Source: Linear Technology.
The two 4 A outputs can be current shared as a single 8 A output with precision voltage regulation of ±1.5% over line and load variations, and is guaranteed from -40° C to 125° C. The LTM4642's small footprint, high efficiency and dual-regulator design enables system designers to reduce PCB area or fit this point-of-load regulator into tight spaces on densely populated boards. Applications for the LTM4642 include industrial, robotic, medical, instrumentation and telecom systems.
The LTM4642 can be synchronized to a supplied clock with a frequency ranging from 600 kHz to 1.4 MHz. Output ripple voltage is reduced because of the device's 180° out-of-phase operation. Low package thermal impedance enables full load current up to 95° C ambient temperature with no airflow and 100° C with 200 LFM when converting 12 V to a 1 V output.
The LTM4642 operates from -40° C to 125° C. The 1,000-piece price is $19.43 each.