Microchip Technology Inc. released a demonstration platform for what it calls the world's lowest-power Bluetooth Low-Energy (BLE) sensor node. The platform comes complete with the ultra-low-power Atmel BTLC1000 BLE module, Atmel's SAM L21 Cortex-M0+ MCU, Bosch sensor technology and a complete software solution.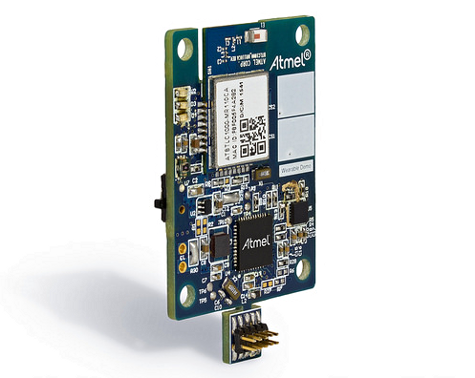 Microchip Technology's ATULPC-DEMO Bluetooth Low- Energy Demonstration Platform. Image source: Microchip Technology Inc. Low power, smaller form factor and quick time to market are critical factors in making the billions of "smart" and "connected" things a reality in the rapidly growing Internet of Things (IoT) market. Microchip says its complete BLE sensor node demonstration platform integrates all these critical factors. For designs requiring low power and smaller form factors, the kit integrates the BTLC1000-MR110CA BLE module which, according to Microchip, delivers at least 30% more power savings compared to existing solutions and is packaged in an ultra-tiny 2.2 mm x 2.1 mm wafer-level chipscale package.
The platform also includes the SAM L21, which achieves a score of 185 on the Embedded Microprocessor Benchmark Consortium's ULPBench ultra-low-power benchmark, drawing 35 µA/MHz in active mode and 200 nA in sleep mode.
Microchip claims that—using these components—it is possible to achieve battery life up to four times that of other solutions currently on the market. The kit also includes the latest-generation Bosch six-axis motion (BHI160) and environment (BME280) sensors, which can be used for a wide variety of sensing applications. The company positions the BLE demonstration platform as an out-of-the-box solution complete with source code, hardware design files, user guide and Android application source code that enables designers to bring their products to market faster.
Availability and Pricing
With a recommended end-user price of $39.00 USD, the Ultra-Low-Power Connected Demonstrator Platform is available today and can be purchased at: www.atmel.com/tools/ATULPC-DEMO.aspx.