Infineon Technologies AG introduced three new Hall sensors that the company says enable automotive, industrial and consumer electronics to meet strict environmental standards. Also, they help fulfill the requirements of very cost-effective and compact designs. Infineon positions the devices in the new TLx496x family as highly integrated, offering precise switching points, stable operation and low power consumption. They are available as latch- and switch-type sensors.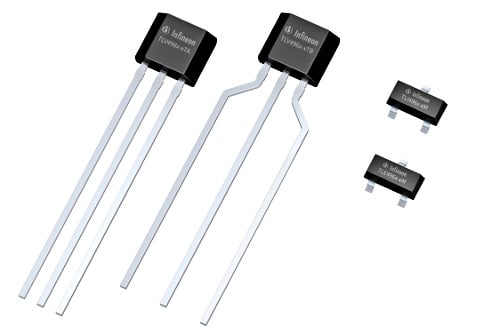 Infineon Technologies' new Hall-effect switches and latches target, respectively, automotive, industrial and consumer electronics applications. Image source: Infineon Technologies AG. The TLx496x Hall sensors consume no more than 1.6 mA—approximately 50% lower than comparable products, according to Infineon. The 5-V versions consume just 1.4 mA. High ESD immunity and precise, stable magnetic switching points make them suitable for systems where precision, energy efficiency and robustness matter. TLx496x Hall sensors reduce system costs by eliminating two of the four external passive components previously needed, which also reduces circuit board space requirements.
All of the TLx496x Hall sensors—switches and latches—compensate for a variety of process- and temperature-related effects, allowing them to switch precisely over the entire specified temperature range and total lifespan.
Infineon offers the following product details and suitability guidelines for the three newly announced device families within the TLx496x series:
Optimized for 5-Volt systems in automotive applications: TLE496x
The TLE496x-xM series is suitable for automotive applications with an operating voltage of 3.0 V to 5.5 V, which generally are not exposed to over-current. Target applications include all systems that need a precise Hall switch or Hall latch for an expanded temperature range of –40° C to 170° C. The TLE496x-xM is typically used in power windows and sunroofs, trunk locks, windshield wipers, seatbelts, camshafts, shift levers and the many controls used in BLDC motors. The magnetic behavior and switching points of the TLE4963-1M/2M latches suit them particularly for applications with precise index counting (for pole wheels or rotor position sensing) and for BLDC motors. The Hall switch (TLE4965-5M) is particularly suitable for monitoring switch and lever positions and the detection of open/close states.
Optimized for 5-Volt systems for industrial applications: TLI496x
The TLI496x-xM series is functionally the same as the TLE496x-xM, but it is specified for a temperature range of –40° C to 125° C and is JESD47- qualified. The TLI496x-xM is typically used in BLDC motors in e-bikes and fans in PCs, in electric drives in building automation (such as blinds and garage doors) as well as the detection of open/close states in white goods and building security and burglar protection.
Optimized for cost-sensitive consumer electronics: TLV496x
The TLV496x-xTA/B series was specifically developed for cost-effective, contactless positioning. Typical applications are BLDC motors in white goods (such as dishwashers and washing machines), compressors in air conditioners, and fans in PCs as well as blinds, garden tools and building security and burglar protection (for example, door and window contacts, gates and roller shutters). Despite the pressure to cut costs, these applications need very precise Hall latches or Hall switches (unipolar/bipolar) for temperatures ranging from –40° C to 125° C. The TLV496x-xTA/B versions have a power consumption of 1.6 mA and ESD protection up to 4 kVH (Human Body Model). The output has over-current protection and automatically switches off at high temperatures.
Availability and development support
The Hall sensors of all three series are available in high volume. Development support includes online simulation tools and application manuals.
More information about Infineon sensors is available at www.infineon.com/sensors and www.infineon.com/hall-switches