Axiom Exergy, an energy-storage company backed by one of the co-founding members of Tesla Motors, has secured funding in order to ramp up its thermal energy-storage product for grocery stores and cold-storage facilities.
The Richmond, California-based company has raised $2.5 million in funding led by Element 8 Fund, Victory Capital, the MIT Angels and other investors. Axiom's refrigeration battery can be used by supermarkets and food distribution centers to reduce peak energy demand by up to 40% and protect perishable inventory from spoiling during power outages.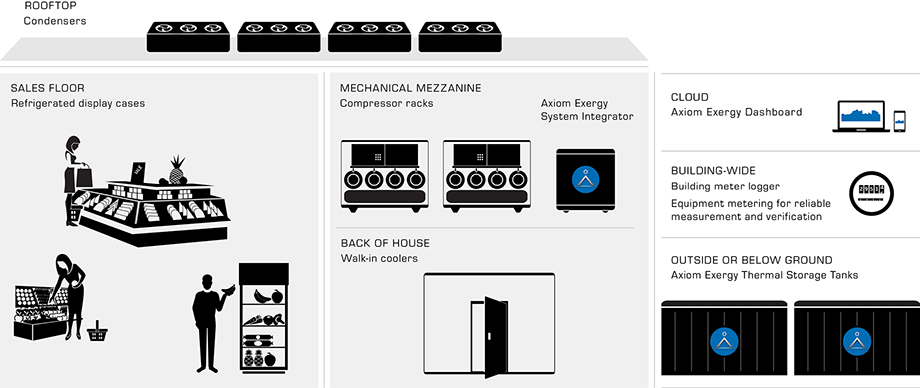 Axiom's refrigeration batteries use a smart cooling technique to save companies energy by freezing a tank of salt water during the night to be used to cool food during the day. (Source: Axiom) The battery can shift six hours of refrigeration electricity loads by using the existing refrigeration systems' excess capacity to "store cooling" at night by freezing a tank of salt water. Then during peak afternoon hours, the refrigeration battery uses the frozen tanks to cool the building, eliminating the need to run energy-intensive compressors and condensers, Axiom says.
The battery operates in parallel with existing refrigeration systems to shift daytime energy loads to less expensive off-peak hours. The battery does not require physical or programming modifications to existing equipment, Axiom says.
"Central refrigeration accounts for 9.1% of electricity consumption in US commercial buildings," says Amrit Robbins, president and co-founder of Axiom Exergy. "Energy storage for addressing peak demand needs, load shifting and backup power is critical for this multi-billion-dollar slice of the energy pie."
Axiom says its energy storage battery is designed specifically for grocery stores and cold-storage facilities, and with operating expenses for energy use three times higher per square foot compared to other retail stores, an energy-storage option can turn saving operating expenses into additional revenue.
The newly raised funds will help Axiom deploy its first wave of refrigeration battery systems into supermarkets and cold-storage facilities in the US. The money will also help fund planned development and testing, and early pilots with major grocery store chains in California.
To contact the author of this article, email [email protected]