German electronics firm Bosch is partnering with seven other European companies to develop a microelectromechanical system (MEMS) sensor platform that will monitor machines and detect deviations from normal operating status immediately.
Called AMELI 4.0, the research project aims to cut the costs of maintaining, inspecting and repairing machines by up to 30% by having the sensor system prevent machines from having unplanned downtimes. The project is being funded by the German Federal Ministry of Education and Research that is giving $4.2 million.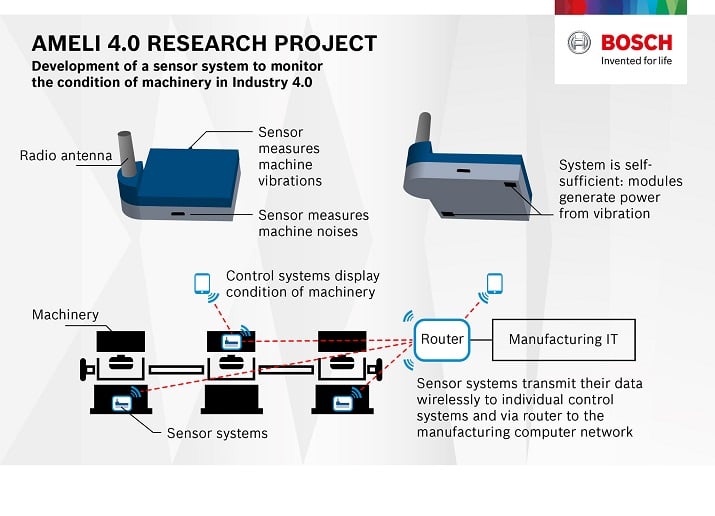 Bosch and its seven partners believe AMELI 4.0 will allow smart sensors to reduce operating costs of machine monitoring up to 30%. Source: Bosch Bosch says sensors play a key role in Industry 4.0 as they capture information about the condition and performance of machines and workpieces. These sensors collect huge amounts of data in real-time in order to facilitate intelligent management and connectivity in manufacturing. Bosch says the sensors currently being used in industrial electronics are limited in what they can accomplish because they are not smart or flexible, consume too much energy or are too expensive.
That's where MEMS sensors come in. Compared to conventional industrial sensors, MEMS are small, smart, energy efficient and cheap to make. Yet they are not robust or powerful enough for the industrial environment. The AMELI 4.0 research project will be tasked to develop MEMS sensors that will be suitable for industrial applications. These new MEMS will not require either power cables or batteries but will be designed to be self-sufficient by generating the necessary power itself through energy harvesting—using the machines' vibrations to generate power.
Once the MEMS sensor system has been built, it will measure two types of noise in industrial machines: structure-born sound (vibrations inside the machines) and acoustic sound (noise emitted by the machine). When the machine is not working properly, the sounds are different and the sensor system will take action if the changes in the sound indicate a defect or wear and tear. This way, a machine can be repaired or provided maintenance before a critical event happens.
Other partners in the research project include Siemens AG, Hahn-Scickard-Gesellschaft, Fraunhofer IPK, Binder-Elektronik GmbH, Schudt Mikrosa GmbH and Stackforce GmbH. The project is slated to be completed by the end of 2018.
To contact the author of this article, email engineering360editors@ihs.com