C&K Components has introduced reportedly the industry's first subminiature, vertically actuated on-on-momentary slide switch series. The JS207 Series slide switches feature a double-pole, triple throw (DP3T) configuration that can be used to replace a two-position slide switch, and a separate momentary push switch for applications that require the on-on-momentary function.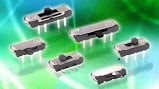 JS207 subminiature slide switch offers J-lead option. Source: C&K Components.
In addition, the entire line of proven JS Series slide switches—which is composed of SPDT, DPDT and DP3T switches in vertical and right-angle configurations—are now offered with a J-Bend SMT lead option that reduces their PCB footprint by up to 50%.

Designed for applications requiring a reliable multi-function switch with a low profile and limited PC board footprint, the JS207 Series switches are suited for use in compact headsets for consumer audio and video equipment, test and measurement equipment, and home automation and alert systems, such as thermostats, and smoke and carbon monoxide detectors.


The JS207 Series slide switches feature a DP3T contact arrangement and an on-on-momentary function with a positive detent. Contacts are rated 0.3 A at 6 VDC, with a minimum electrical life of 5,000 cycles. Insulation resistance at 500 VDC is 100 MΩ, and contact resistance is 70 mΩ (max). Operating temperature for the series spans –40° C to 85° C.

Available in standard tape-and-reel packaging, the JS207 Series switches measure 13 (L) x 3.6 (W) x 3.5 (H) mm, and are rated for infrared reflow soldering at 260° C.