Coilcraft  has developed a new RF Magnetics Lab Kit to help educators bring practical, hands-on experience into their classrooms and instructional labs. The kit contains a selection of chip and air core inductors, LC filter modules and wideband transformers, and is offered free-of-charge to accredited Electrical Engineering programs.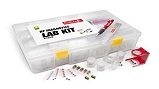 Coilcraft RF Magnetics Kit. Source: Coilcraft
Coilcraft also offers a variety of other resources to students and educators, including design tools, a deep library of application notes, lab posters, 2-D and 3-D models, and other materials. Students can also follow Coilcraft on Facebook to submit photos of their design projects and receive special offers and contest notifications.