For generating inputs as low as 0.6 V to power FPGAs, DSPs and microprocessors, power management and analog ICs supplier, Intersil Corp., has released a new line of highly integrated synchronous buck regulators that step-down 5 V rails to the point-of-load (POL) inputs. While the ISL8018 is designed to deliver up to 8 A of continuous output current from a 2.7 V to 5.5 V input supply, the ISL8003x family of regulators supplies up to 3 A of continuous output current from a 2.7 V to 5.5 V input supply.
Offering 97% peak efficiency, ISL8018 provides features such as SYNCIN and SYNCOUT to connect and synchronize multiple regulators at the same switching frequency in a master/slave configuration using a phase shifting time delay. As a result, according to Intersil, it prevents time overlapping and reduces RMS current, ripple and input capacitance requirements to improve EMI and efficiency. Other new features added to ISL8018 include VSET, ISET and programmable switching frequency.
Highly efficient tntegrated synchronous buck regulators
With the VSET, ISL8018 can set the voltage output margining at ±10% to compensate for output voltage IR drop. Likewise, the ISET provides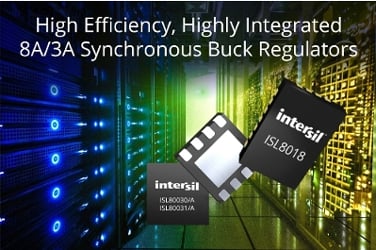 Highly efficient integrated synchronous buck regulators. Source: Intersilprogrammable output current limits to support 8 A, 5 A and 3 A applications. Intersil says that it allows users to leverage one design with smaller inductors for reduced costs and board area. Additionally, ISL8018's programmable switching frequency from 500 kHz up to 4 MHz enables the use of smaller passive components for faster transient response and more board space savings. Housed in a 20-lead QFN, the complete converter occupies less than 97 mm2 board space.
The four pin-compatible 3 A buck regulators, ISL80030, ISL80030A, ISL80031, and ISL80031A, integrate very low RDS(on) high-side PMOS and low-side NMOS MOSFETs, which reduces external component count and power losses. Also, with lower die temperatures, these buck regulators allow the system to operate without cooling fans or heatsinks and still deliver a continuous 3 A to the load, significantly increasing reliability. Furthermore, to reduce design complexity, theyalso offer internal compensation to cut external components count. Consequently, the complete DC/DC buck converter occupies less than 64 mm2 of board space. The ISL80031 and ISL80031A offer a light load mode to improve efficiency overall load currents when the system switches to a low-power state.
The 8 A ISL8018 comes in a 3- x 3-mm 20-lead QFN package and the 3 A ISL8003x synchronous buck regulators are available in compact 2- x 2-mm 8-pin DFN packages.
Questions or comments on this story? Contact engineering360editors@ihs.com