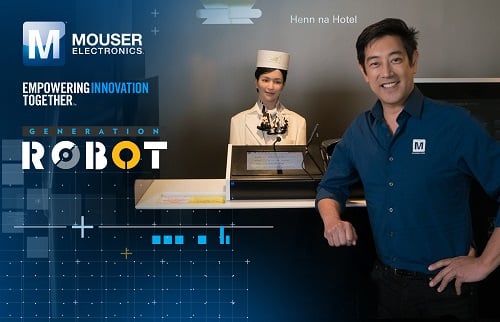 How will robots react to humans with different needs and demands inside a hotel? Source: Mouser
Mouser Electronics Inc. has released its third video in its Generation Robot series, this time exploring the Henn na Hotel in Nagasaki, Japan, which is billed as the first robot hotel in the world.
Along with celebrity engineer Grant Imahara, the goal is to look at how a hotel that employs very few humans and is almost exclusively staffed by robots will impact human-robotic work interaction and communication.
The exploration of the Henn na Hotel seeks to answer a realistic question about robots working in spaces that have traditionally been occupied by humans, specifically: Is the world prepared for such a massive change?
Imahara and Mouser look into various uncertainties such as the ability of robots to adapt to unlimited HRI scenarios, problem-solving capabilities in humanistic scenarios and the implications of unsuccessful communication in human demographics.
"This amazing social experiment is giving the industry a unique insight into how people will eventually interact with robots on a daily basis," Imahara said. "The technology certainly has some evolution, but I'm looking forward to the day when humans and robots can coexist as equals."
The video is part of Mouser's Empowering Innovation Together program looking at how new technologies are changing the world. Molex, Intel, Microchip Technology and Analog Devices are all helping to sponsor this latest series — Generation Robot.