Global electronics distributor TTI Inc. has begun construction on a new warehouse distribution center in Fort Worth, Texas.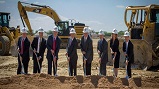 Don Akery, Senior Vice President, TTI Global Business Operations, said in a statement, "As TTI continues to experience significant global growth, this is a perfect opportunity for the company to expand and make this type of investment to our infrastructure."
He also said the expansion would allow TTI to invest even more in the Fort Worth community, which has been home to TTI headquarters for 45 years.
"We want to continue building our legacy by investing in our hometown as a leading community business partner and to build a bigger and better place of employment for our employees and future employees," Akery said.
Along with much attention given to workplace improvements for the warehouse teams, the multi-level distribution center streamlines the receiving and shipping process of the warehouse with state-of-the-art automated material handling, enabling orders to be processed with greater speed and efficiency.
Completion date for the distribution center is scheduled for the fourth quarter of 2017. With additional expansions taking place in Europe, Asia and Mexico, the North America distribution center expands TTI's existing global warehouse space from 1.2 million square feet to over 2 million square feet.