Vicor Power has introduced a family of high-power DC-DC converters specifically developed for rail transportation.
This next generation family of converters deliver seven different isolated outputs from 3.3 to 48 V with a range of unregulated input voltages from 43 to 154 V, making them suitable for 72 and 100 V standard rails.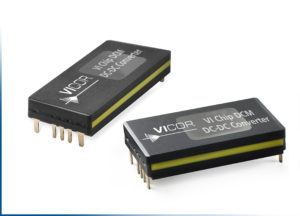 Source: Vicor Power
Packaged in a 3623 ChiP package, the devices deliver up to 240 W of power and up to 653 W/in.3 (39.8 W/cm3) power density in a topology of high-frequency zero-voltage switching (ZVS). Their efficiency is up to 93 percent of the input voltage.
Applications for commuter and freight rail systems include:
· Electric door openers
· Engine control
· Motor drive controllers
· Braking systems
· Lighting
· Ticketing machines