Scalable Display introduces Huddlewall, a wall-sized collaboration system that seems to be turning heads in the new Unified Communications and Collaboration (UCC) pavilion at InfoComm 2016, held this June 8–10 in the Las Vegas Convention Center.
Group Collaboration Across 24 Feet of Whiteboard Space
The Huddlewall combines multiple HD projectors with a rigid projection surface to scale a Windows desktop display up to an electronic whiteboard of up to 24 feet. It comes with a Logitech camera and automatic edge-blending software, with additional options to create a turnkey system. Easy to install, the modular surface is designed for corporate, government, educational and training applications, where UCC is a necessity to enhance creativity and productivity. The Huddlewall will find a home in businesses focused on Agile software development, LEAN management, and the Architecture, Engineering and Construction trades, as well as training environments.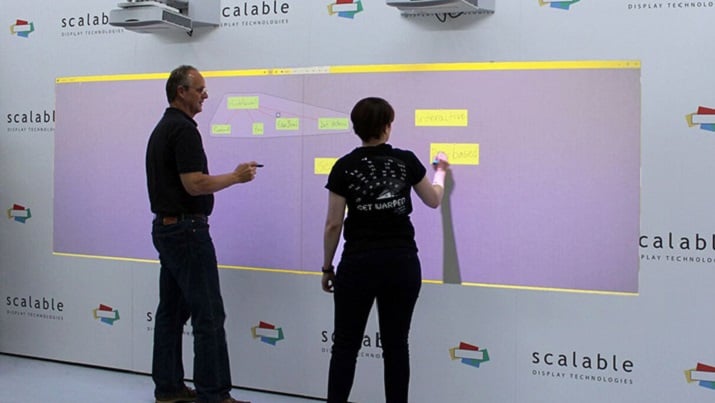 The Scalable Huddlewall permits group collaboration by up to eight users at one time.
Huddlewall with Anoto Dot Pattern integration has a micro-dot pattern writing surface to enable multi-pen whiteboarding with up to eight digital pens, encouraging group brainstorming sessions. The Huddlewall with Anoto Dot option includes digital pens and a complete suite of collaboration applications from We-Inspire, including Pinboard, Sketchboard and Paper. The Huddlewall system can work with nearly any Windows-based applications for flexibility in a variety of environments.

Best known as a developer of software for multi-projector display systems and collaboration solutions, Scalable brings more than a decade of knowledge and experience into developing the Huddlewall, says the company.
Providing Software Solutions for Top-Tier Brands
In addition to releasing the UCC solution, Huddlewall, Scalable provided its ScalableDesktop auto calibration software for projection systems to a number of partner booths at InfoComm 2016.
NEC, Vivitek, Ricoh, Draper, Da-Lite and RPVisuals deployed the software to showcase the capabilities and quality of their projectors and screens.
Scalable Studio Comes to Boston
As part of Scalable's market expansion and growth, the company has also launched Scalable Studio, a real-world development, collaboration and training environment that houses Scalable's collaboration, display and Virtual Reality innovations on Boston's South Shore.

At Scalable Studio, experts provide training and demonstrations for AV and IT systems integrators and end-users who want to learn more about how Scalable solutions can encourage and enable creativity and collaboration. Users can experience a real 12-foot Huddewall with Anoto Dot Pattern integration, a headset-free virtual reality environment with a dynamic eyepoint position tracking system, a virtual reality military simulation with multiple training stations and reconfigurable display components, and a six-projector, rear-projected cylinder that creates an immersive display environment.
AV integrators, UCC professionals, business people and educators who do not attend InfoComm 2016 can experience Scalable technology in a hands-on, interactive environment at Scalable Studio.