From engineers and product development teams, sales and marketing departments, and up to executives, we are living in the era of workplace collaboration. As telecommuting and remote work trends continue to grow, creative collaboration across the office and across the miles becomes more important than ever.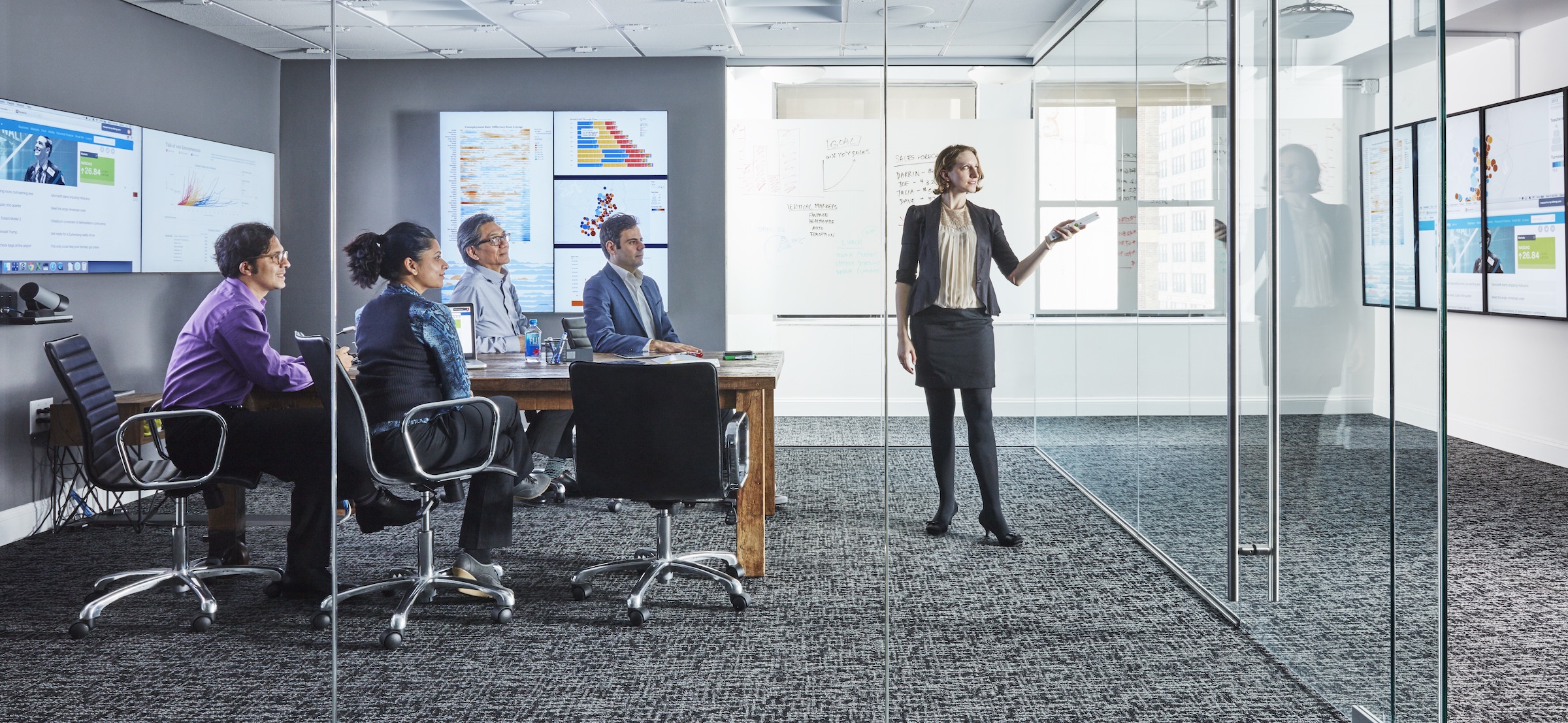 Today's conference and board rooms provide endless capabilities for collaboration.

Today's conference and board rooms provide endless capabilities for collaboration. Display technology advances, along with developments in Unified Communication and Collaboration (UCC), work together to provide seamless collaboration capabilities. "It was our task for many years to make clients aware of the possibility of UCC," says John Greene, vice president of sales and marketing for Advanced AV, specializing in UCC technology. "Today the tech we have promoted for so long has been adopted, and now fluidity, standardization and enterprise implementation of UCC is required."

Driven by Millennials

Millennials—who now make up one-third of the workforce, and represent the largest demographic in the workplace according to Pew Research—are team players by nature, interested in feedback and support with every step of a project. Workplace collaboration has expanded as a result of these needs. "To truly appeal to the Millennials, workplace collaboration technology needs to be immersive, fast, visually beautiful, innovative, adaptive and future-proof," says Jen Uner of Oblong Industries Inc., manufacturer of the Mezzanine immersive collaboration solution. "Millennials are a collaborative, social, mobile and tech-savvy group who consume and share information instantly, enjoying social interaction at their fingertips. Raised in the digital age, they anticipate instant connectivity, mobile interaction and seamless, collaborative technology as standard in their working environment."

Fortunately technologies continue to advance to drive collaboration and unified communications to these exacting specifications. "Everyone's workflow is woven together, from home through to the workplace to social activities," says Greene.

A number of workplace collaboration tools introduced this year make product development, data aggregation and analysis, and workplace communication easier and more efficient. "The platforms and solutions are there, and the experience, availability of people, data and knowledge resources is starting to blend seamlessly," notes Greene.  

The Role of Display Technology

The display technologies available today play a large role in the advancement of UCC and workplace collaboration. As displays grow larger and aspect ratios change, pixel densities and high-resolution—even 4K—projection matters more than ever.

Huddlewall, a wall-sized, turnkey collaboration system manufactured by Cambridge, MA-based Scalable Display Technologies, uses high-end graphics processing that can scale a Windows desktop display onto a rigid projection surface up to 24 feet. "We're seeing a growing demand for larger and larger screen real estate and high pixel density, married with pen and touch interactivity in the local meeting space," says Scalable President and CEO Andrew Jamison.

To that end, the Huddlewall is scalable up to eight HD projectors wide and seamless, with no bezels that might be found in other video wall solutions. It comes with a Logitech camera and automatic edge-blending software, with additional options to create a turnkey system. The system with Anoto Dot Integration uses a micro-dot pattern writing surface to enable multi-pen whiteboarding with up to eight digital pens.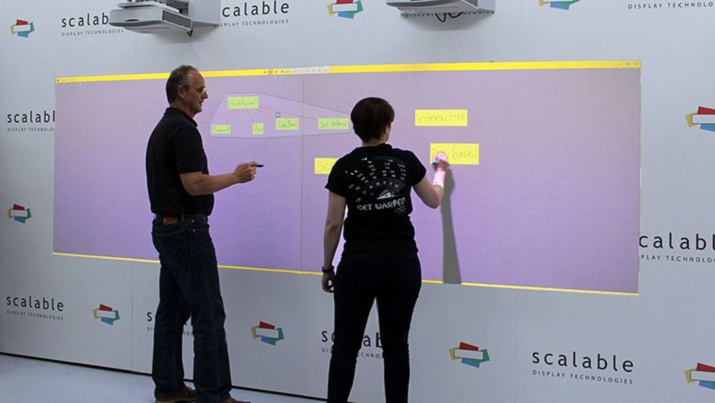 Up to eight users can collaborate on the Huddlewall surface.Up to eight users can collaborate on the Huddlewall surface.

The modular surface is designed for corporate, government, educational and training applications, where UCC is a necessity to enhance creativity and productivity. The Huddlewall will find a home in businesses focused on Agile software development, LEAN management, and the architecture, engineering and construction trades, as well as training environments. 

Acknowledging the need for flexibility and remote capabilities, Jamison says, "Nearly all meetings today have remote participants, therefore asymmetric functionality is essential." Additionally Huddlewall features an open architecture that allows businesses to use any collaboration solution operating on the Windows platform.

The Nureva Span ideation platform is another solution that brings immersive video into the conference room. The 10-foot display screen, built with a unique, 16 x 6 aspect ratio, is "perfect for displaying a lot of content in small bits—sticky notes, graphics, screen captures," says Steve Vander Meulen, Nureva vice president of products. "The aspect ratio is designed for the type of work we're supporting, which is brainstorming and idea generation."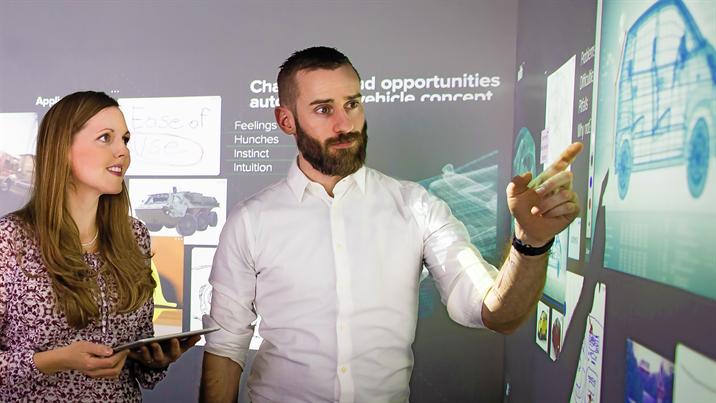 A three-wall, fully immersive display encourages collaboration and creative thinking with Nureva Span.A three-wall, fully immersive display encourages collaboration and creative thinking with Nureva Span.

The displays can be combined seamlessly, creating an immersive environment where meeting participants are surrounded by imagery and data in three directions. "Whether it's big data, brainstorming or design work, we're seeing a natural desire for people to be surrounded by as much content and information as they can. It helps them to evolve thinking and helps them refer to context that moves the work forward," says Vander Meulen.

Noting that aspect ratio, resolution, brightness and contrast all come into play, Vander Meulen says, "Technology is now able to keep up with our natural desire to be surrounded by our thinking."

A third collaborative video solution, Mezzanine by Oblong Industries, is changing the way teams work at companies like IBM, Accenture, Fujitsu and Dentsu Aegis Network, according to the manufacturer.

Mezzanine provides the flexibility UCC solutions demand, offering multiple screen surfaces that enable work groups to connect, contribute and control content and data from almost any computing device—laptop, tablet or smartphone—from any location. Mezzanine works with large display screens from a number of top manufacturers.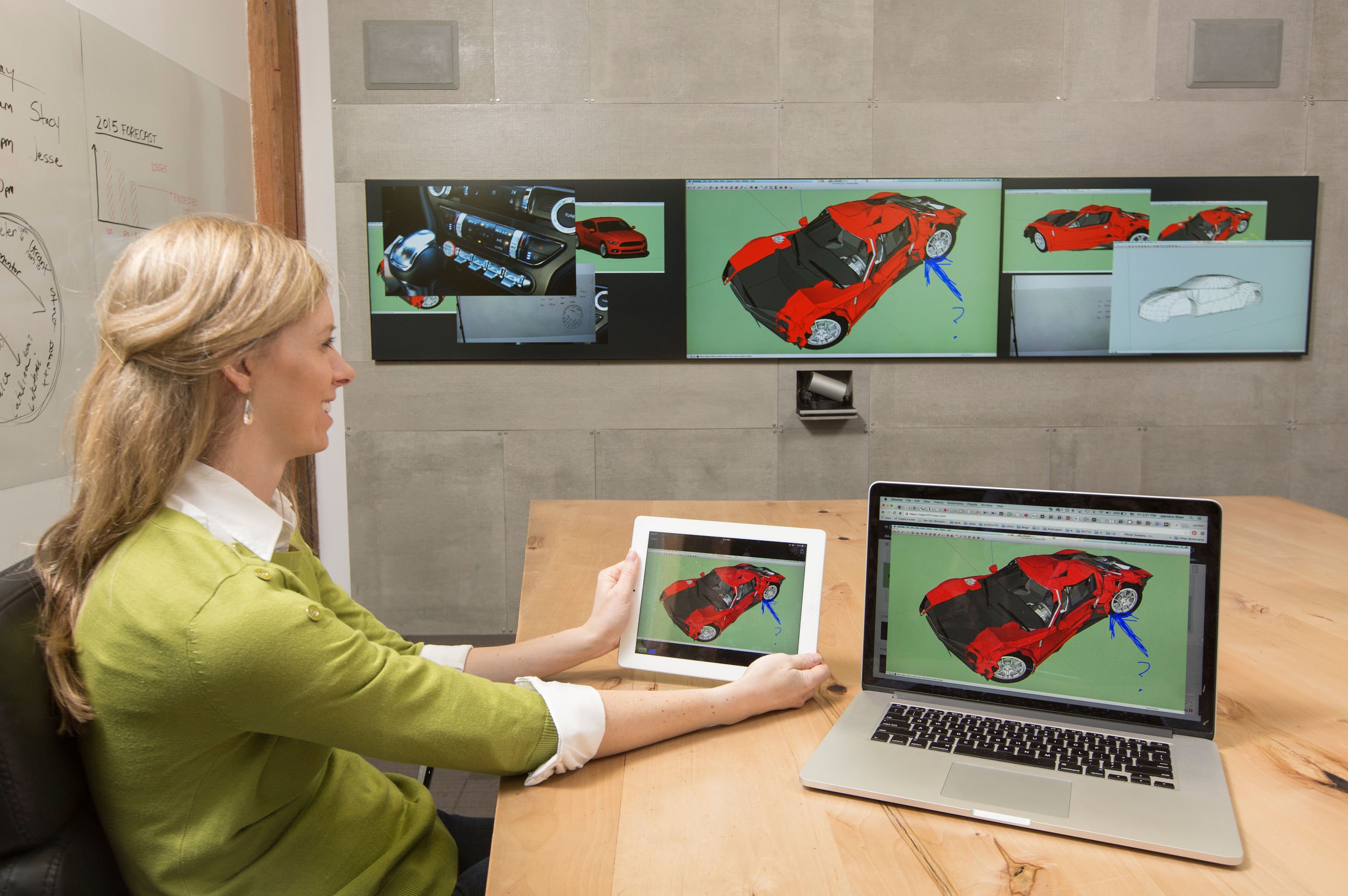 The Mezzanine solution offers connectivity across many different-size screens.The Mezzanine solution offers connectivity across many different-size screens.
"Flexibility, elasticity and choice are core to Mezzanine. There are a near endless number of screen configurations that are possible with the system, to activate the wall spaces of almost any room design," says Oblong's Uner.

The addition of features such as gesture control via wands helps keep meetings dynamic, collaborative and focused. "Meeting participants are actively engaged with the content and driving the discussion forward. Even when remote colleagues join a meeting, it feels like they are right in the room," she adds.
Connectivity: The Key to Successful Collaboration

Connectivity remains the key to successful workplace collaboration, and a strong network backbone is essential regardless of the communications platform chosen. "This year's InfoComm, held in June in Las Vegas, showed us network technology woven into everything—more than a simple network connection on the backplane of hardware," says Advanced AV's Greene.

In many organizations deploying this technology, we are also seeing solutions that live in the cloud; and companies like Advanced AV are doing more than just installing the systems—they are also managing them. "Cloud services will have a significant impact on our ability to provide UCC as a service," he says.

Vander Meulen also recognizes the importance of these advances. "There's the technology that supports people when they're together—the large-format displays. Then there's technology that supports people when they aren't together. And it's there that the most interesting innovations are taking place," he says. "We're seeing information on the cloud, and people being able to work collectively on something that doesn't require a data-sharing engine." In the past, workflow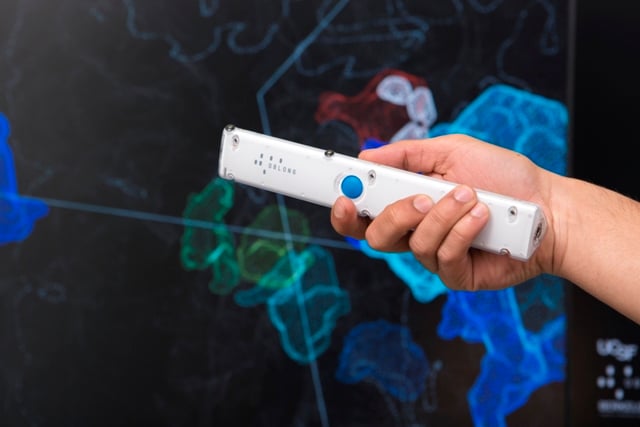 A user-friendly wand makes gesture control easy.created a pain point when it came to collaboration and communication.

"Everyone was utilizing a portion of UCC, voice, data, video," says Greene. "But now, with a 'no- silos-allowed' attitude when it comes to technology, UCC demands and expects the simplification of the user interface and indiscernible installation of hardware into the user's experience. UCC is there to support everyone coming to the meeting."

Full Immersion for All
The solutions explored in this article—along with many others already on the market or currently in development—are designed to allow employees to feel like they are a part of the meeting, whether they are participating from home on a smaller screen or fully immersed in the data on the wall in the conference room.

"With the huge advances in visual collaboration and the emergence of Infopresence™ [the flexible flow of content and data from multiple sources across multiple screens and connected locations on demand], meeting with colleagues can be an exciting, dynamic experience. With engaged and empowered employees, work is streamlined, fresh ideas abound and collaboration as a competitive advantage is revealed. The reign of the 'bored room' will soon be at an end," concludes Uner.