Thanks to 3-D printing, scientists have installed a batch of inexpensive weather stations designed to provide necessary information to farmers and residents in developing countries.
The weather stations, created by weather experts at the National Center for Atmospheric Research (NCAR) and its managing entity, the University Corporation for Atmospheric Research (UCAR), are composed of 3-D-printed parts that can be easily replaced if they wear out in the field.
The first five stations have been installed in Zambia and are starting to transmit information about temperature, rainfall, winds and other weather parameters. This information is vital for local subsistence farmers deciding when to plant and fertilize crops, and can also alert communities about floods and other potential disasters.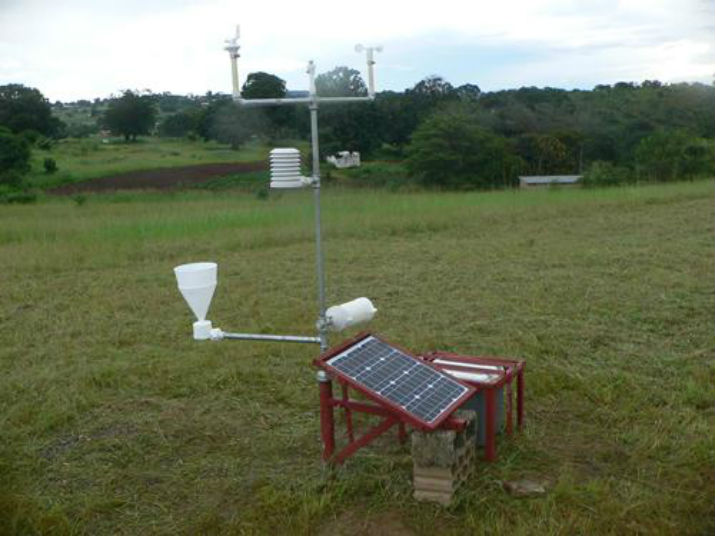 A newly installed weather station is at the Salvation Army's College of Biomedical Sciences in Chikankata, Zambia. (Image Credit: UCAR/ Martin Steinson)"It's a major opportunity to provide weather information that farmers have never had before," said Paul Kucera, one of the project leaders. "This can literally make the difference when it comes to being able to feed their families."
"The bottom line is that 3-D-printing will help to save lives," said Sezin Tokar, a hydrometeorologist with U.S. AID. "Not only can they provide countries with the ability to more accurately monitor for weather-related disasters, the data they produce can also help reduce the economic impact of disasters."
As is the case in many developing countries, Zambia does not have detailed forecasts, which can be partially attributed to its lack of weather stations. According to NCAR, the density of stations in Africa is eight times lower than recommended by the World Meteorological Organization.
However building out a network can be expensive because a single commercial weather station can cost anywhere from $10,000 to $20,000, in addition to ongoing funding for maintenance and replacing worn-out parts.
Over the past few years, the scientists have worked to come up with an inexpensive and easy-to-repair solution that can be adapted to fit the needs of a host country. Enter 3-D printing.
The result was custom-designed stations printed out of plastic parts, along with off-the-shelf sensors and a credit card-sized computer developed for schoolchildren. The entire station cost about $300 to create and each country can easily print replacement parts.
"If you want a different kind of wind direction gauge or anemometer, or you just need to replace a broken part, you can just print it out yourself," said Martin Steinson, project co-lead. "Our role is to make this as accessible as possible. This is entirely conceived as an open-source project."
The first stations were installed earlier this year: three next to radio stations that will broadcast the information to local communities, one near a rural hospital, and one near the headquarters of the meteorological department.
Now the meteorological office will take over the project, in hopes of building a network of 100 weather stations across Zambia. It will possess the 3-D printers, materials and training to maintain or upgrade the network.
Once the technology has been established in Zambia, the team will focus on other nations that need additional weather stations, such as in Africa or the Caribbean.