The Yield is an agriculture technology company designed to help improve yields in agriculture farms through the use of on-farm sensors and cloud-based technology to help farmers make better, faster decisions about when to harvest crops.
Using Microsoft's Azure cloud-computing platform, The Yield develops apps for smart devices to take the guesswork out of farming, including when and how much to water crops. The technology allows for farmers to know the exact right time to harvest in order to extend the shelf life of products beyond traditional methods.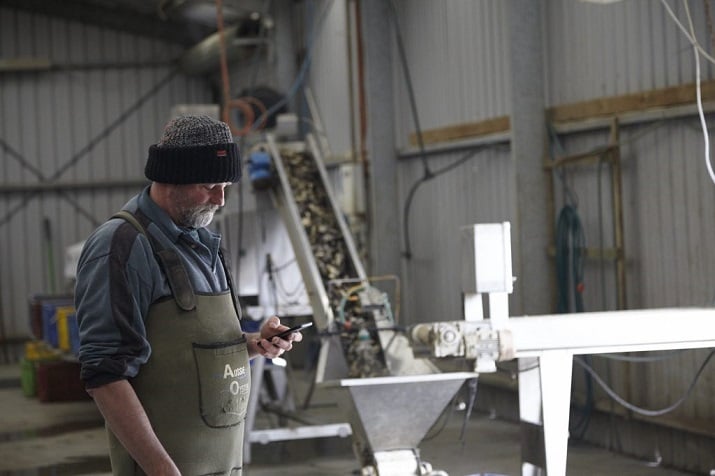 Farmers at Barilla Bay Oysters in Tasmania use The Yield's technology to monitor the correct time to harvest oysters. Source: Microsoft But it extends beyond traditional farming and into Australia's Tasmanian oyster business. Tasmanian farmers produce about 36 million oysters a year, but because oysters are filter animals, regulators halt harvesting when there are heavy rains as it could wash contaminants into the oyster bays. A prior method to measure the danger was through rain gauges from public weather stations.
The Yield used the Azure Internet of Things (IoT) suite to power real-time underwater sensors to analyze the water the oysters drink. The information was pumped through the Azure cloud platform where machine learning and advanced analytics make data-based predictions that are shared with growers and regulators via real-time dashboarding.
The result was The Yield's technology reduced unnecessary harvesting closures by 30%, saving about $5.3 million a year, a big chunk of money for the $24 million industry in Tasmania.
The system doesn't just produce more precise harvesting, but the data is helping to develop new models for animal husbandry and disease management, such as tools to help scheduling labor and tracking provenance and food safety. In its first year of operation, two government agencies and more than 300 oyster growers rely on The Yield's technology.