Allegro MicroSystems, LLC has announced a quad DMOS full-bridge driver IC capable of driving up to two stepper motors or four DC motors. Each full-bridge output is rated up to 1.6 A and 40 V. The 
A5988 
includes fixed off-time pulse-width modulation (PWM) current regulators, along with two-bit nonlinear digital-to-analog converters that allow stepper motors to be controlled in full, half and quarter steps, and DC motors in forward, reverse and coast modes.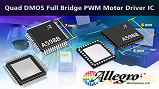 A5988 quad DMOS full-bridge driver IC. Source: Allegro Microsystems
The PWM current regulator uses the Allegro™ patented mixed-decay mode to reduce audible motor noise, increase step accuracy and reduce power dissipation. This device targets the consumer and office automation markets with end applications that include closed-circuit TV (pan and tilt) applications, scanners, POS, and laser, inkjet and label printers.
Internal synchronous rectification control circuitry is provided to improve power dissipation during PWM operation. A low-power sleep mode is included to reduce power dissipation. Protection features include thermal shutdown with hysteresis, undervoltage lockout, and crossover-current and over-current protection. Special power-up sequencing is not required.
The A5988 is supplied in two packages, EV and JP, with exposed power tabs for enhanced thermal performance. The EV is a 6 mm x 6 mm, 36-pin QFN package with a nominal overall package height of 0.90 mm. The JP is a 7 mm x 7 mm 48-pin LQFP. Both packages are lead-free, with 100% matte-tin lead-frame plating.
The A5988 is priced starting at $1.73 each in quantities of 1,000.