(Source: Texas Instruments)
Stepper motors are very popular for small- to medium-size applications such as printers and scanners, ATM machines, 3D printers, and video camera control, but like almost all motors, they're a little tricky to control. In the case of steppers, they also need initial time-consuming, often frustrating, tuning of their control-loop parameters to optimize performance with respect to the motor and load characteristics. Some designs need also need periodic retuning to accommodate changes in the mechanical system due to dirt, wear and other ongoing changes.
ICs in the DRV888x family are the smart interface between a microcontroller and a stepper motor; they include drive control algorithms, MOSFET drivers, and power MOSEFTs, thus minimizing additional components, board space, cost, and design-in challenges. (Source: Texas Instruments)
The DRV888x series of four ICs from Texas Instruments (see Table) makes control of the very common 24-V bipolar stepper-motor H-bridge via different interfaces a relatively simple proposition. Two of the ICs in the family feature TI's AutoTune™ technology (patented) to eliminate the need for stepper-motor tuning by the engineer, while two others integrate the current-sensing function needed for effective motor feedback. Depending on model, the devices also feature 1.5 A or 2 A MOSFETs, which is sufficient drive for many stepper motors used in these applications. Three of the devices implement a 1/16 microstepping indexer for finer step resolution; there is also provision for non-circular and standard ½-step modes.
Device

Feature

Control interface

Current capacity

On-chip microstepping

DRV8880
AutoTune
Step/Direction
2.0 A full scale

(maximum drive current)

Yes; up to 1/16.
DRV8881
AutoTune™
Phase/enable
2.0 A full scale

(maximum drive current)

No; external control allows for higher microstepping levels.
DRV8885
Integrated current sensing
Step/Direction
1.5 A full scale

(maximum drive current)

Yes; up to 1/16.
DRV8884
Integrated current sensing
Step/Direction
1 A full scale (maximum drive current)
Yes; up to 1/16.
One challenge with stepper motors is controlling their ramp-down waveform's decay rate to ensure that the motor runs quietly and efficiently despite changes in motor properties, supply voltage, load and torque. The AutoTune™ intelligence dynamically monitors the motor's performance under varied conditions over its lifetime and adjusts decay settings appropriately.
Not all stepper-motor applications require the stability and longevity benefits of AutoTune™ technology, however, so TI also offers two ICs in the family without it, instead including a unique technology that eliminates two external current-sense resistors normally needed to accurately regulate the current to the motor. The result is both a cost reduction as well as significant savings in board real estate (they claim up to 20 percent). Equally important, the elimination of external components simplifies routing on the board and the EMI/RFI and other problems it often brings.
No motor-control/driver design is complete without multiple protection features, given the reality of motor issues such as short circuits, stalls, and mechanical blockages. The DRV888x devices include a set of functions covering various types of undervoltage lockouts, overcurrent protection, thermal shutdown, as well as fault-condition indication.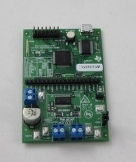 The DRV8880EVM with onboard MSP430 microcontroller is a high-performance, power-efficient, cost-effective platform that speeds development for quicker time to market, and includes a GUI for user interaction. (Source: Texas Instruments)
System and circuit designers often insist on availability of evaluation modules for most ICs, and especially for motor-related devices. Recognizing this, TI offers a set of evaluation modules for the DRV880 family: the DRV8880EVM, DRV8881EEVM (for phase/enable interface), DRV8881PEVM (for PWM interface) and DRV8885EVM. Each EVM includes an onboard MSP430TM microcontroller to create a cost-effective platform that eases and speeds product-development efforts as well as time to market.
Pricing and packaging: the members of the DRV888x family are available in various combinations of 28-pin, very thin quad-flat no-lead (WQFN) and heat-sink thin-shrink small-outline packages (HTSSOP). Prices (1000 piece) range between $1.30 and $1.92 depending on the specific device selected.