ERNI has expanded its miniature 0.8 mm MicroStac® SMT connector series to include anti-magnetic versions with 12-pin (single row) and 54-pin (dual row) configurations with a 5 mm board-to-board stack height and a 1.5 mm effective wipe length. The non-ferrous connectors are designed specifically for medical and instrumentation applications such as MRI machines, where ferrous materials can be hazardous and degrade test results.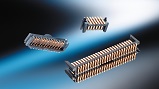 MicroStac® SMT connector. Source: ERNI
The MicroStac® components are based on a patented hermaphroditic design that combines male and female connector halves into one solution. The unique design reduces logistic, inventory and manufacturing costs, as the connectors mate and un-mate to themselves.
In spite of their extremely compact construction, MicroStac® products achieve a high current-carrying capacity. With an ambient temperature of 20° C and current to all contacts, the 12-position MicroStac® connector can transfer a derated 2.2 A per contact. The contacts are formed through precision stamping. As a result, the contacts offer an extensive cross-section for low ohmic resistance, while at the same time provide a large radiating surface that yields higher current-carrying capabilities than similar competing products.
The connectors also offer a high mating tolerance with allowed misalignment tolerances of longitudinal and transverse axes of ± 0.7mm. The allowed angular inclination tolerance is specified with ± 4 degrees.
The SMT terminals and the unique design of the MicroStac® allow for economical automated assembly. The stability of the miniature connector is facilitated through a tilt-proof contact principle with dual-side positioning of the contact on the PCB. In addition, with its corresponding features of minimal weight (just 0.18 g for the 6-pin design), co-planarity of < 0.1mm, and suction areas integrated into the insulating body for pick-and-place assembly, the MicroStac® components are perfectly suited for high-speed manufacturing.
MicroStac® connectors feature a high temperature-resistant insulating body and exact coplanarity to ensure a secure soldering experience. The black isolating body allows simple visual recognition during automatic assembly and, when delivered in the antistatic tape and reel packaging, the connectors are protected and ready for automatic assembly.
Ferrous versions are also available for a wide range of applications ranging from sensor technology, medical instruments and mobile communication to automotive electronics, automation engineering, measurement, test equipment and building automation. Available pin positions are 6, 10, 12 and 14 in a single row with a dual row available in 50- and 54-pin positions. Please inquire about non-ferrous position sizes other than 12 and 54. A 9-position single row with a 3-mm stack height is also available.