Ford Motor Company has three labs dedicated to the innovation of its vehicles. Last year, the company opened the doors to its newest Research and Innovation Center in the heart of Silicon Valley, joining its existing lab in Germany and headquarter-based lab in Dearborn, Michigan.

There is plenty of work that goes on behind the scenes in these labs. In Germany, the labs' main focus is on next-generation powertrain research, driver-assist technologies and active safety systems. In Dearborn, researchers work diligently to develop advanced electronics and human-machine interfaces, achieve breakthroughs in materials science, and focus on big data.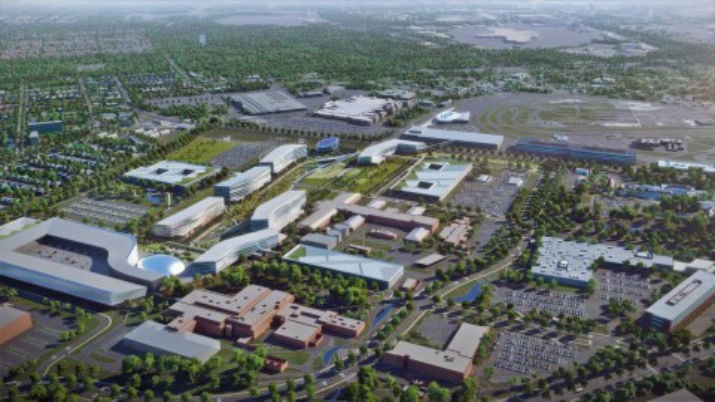 The current state of Ford's Dearborn campus. (Image Credit: Ford)

What else goes on behind the doors of Ford's labs?

"Forty percent of the work we do is discovery related," said Jim Buczkowski, a Henry Ford Technical Fellow and Director, Electrical and Electronics Systems Research and Advanced Engineering, who is involved with the Dearborn center.

What this means is that nearly half of the work that's going on behind the doors of Ford's lab is focused on more futuristic products that may not even be of use for another 10 to 15 years. The other 60% of what goes on in the lab is focused on technology that will be used in the near future, about three to five years from now.

For this kind of work the lab teams up with universities involved in similar areas of technology. For example, last year the company formed a research alliance with Stanford University to deliver a Fusion Hybrid Autonomous Research Vehicle to the university engineers for next phase of testing.
Discovery Areas

One of the key discovery areas that Ford focuses on is materials. The company constantly aims to figure out how to make cars stronger, but at the same time, lighter.

For example, "if we can make a seat just as small, just as comfortable, but thinner, it will make it appear more spacious," said Buczkowski.

A lot of the "exotic materials" that Ford plays with in its discovery phases are time consuming and require extra attention and unique processes. When dealing with a material like aluminum for car brakes, users would receive the lightweight benefits. However, the surface friction is what is really necessary to make the brakes stop. Therefore, researchers need to play with materials and apply them to different surfaces to achieve the ideal combination.

Another area of interest for the Ford researchers is software. When it comes to the growing trend of autonomous vehicles, deep learning and algorithms lay the foundation for this technology, enabling vehicles to possess learning abilities. Right now researchers are looking into the future, more long-term, to make self-driving vehicles more efficient.

As with many of today's technologies, sensors play a dominant role in their creation. The same goes for today's automotive industry, where sensors, and their related algorithms, can monitor driver behavior, detect obstacles, and change the act of driving completely. A real-world example of the developing sensor technologies can be found in autonomous vehicles. A lot of autonomous driving systems come equipped with Lidar systems—laser systems that scan the environment to provide a 3-D view.
Looking Outside the Box

Another important aspect of Ford's technological development includes seeking technology companies outside of the car realm.

For example, earlier this year at CES 2016, Ford unveiled its collaboration with Amazon to incorporate Alexa, the company's connected "family assistant" into vehicles.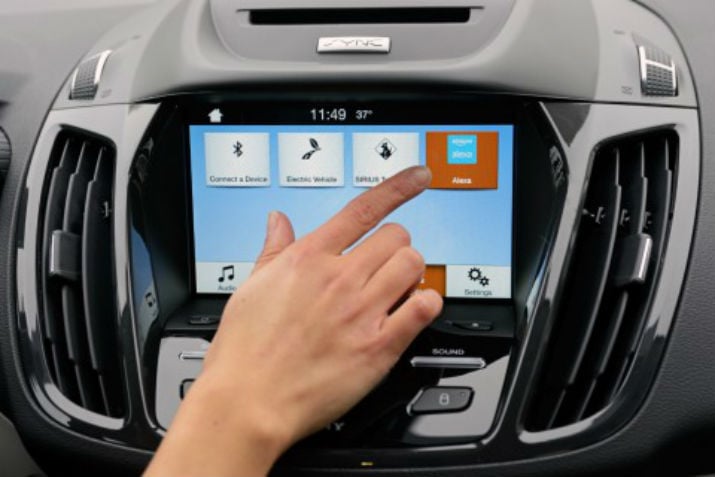 Ford revealed its collaboration earlier this year with Amazon. (Image Credit: Ford)

The company revealed that it was developing ways to pair millions of SYNC®-equipped vehicles with home automation devices or smart home products.

"That's transitioning from a proof-of-concept to a reality," said Buczkowski. "We're pretty excited about the potential going forward."

As more and more consumers begin to embrace wearable devices in their lives, Ford is also looking to incorporate them into its vehicles. The company added an Automotive Wearables Experience lab at its Research and Innovation Center in Dearborn, Michigan, earlier in the year to focus on this task.

"How can wearable devices create a better experience for drivers?" asked Buczkowski. These are the questions the researchers ponder.

Currently, research teams are looking to incorporate wearables such as pendants, patches, watches and glasses and working with partners that develop these wearables to monitor driver behavior.

It is also important, Buczkowski adds, to "understand the sensors themselves"—the ones that are behind these wearable technologies.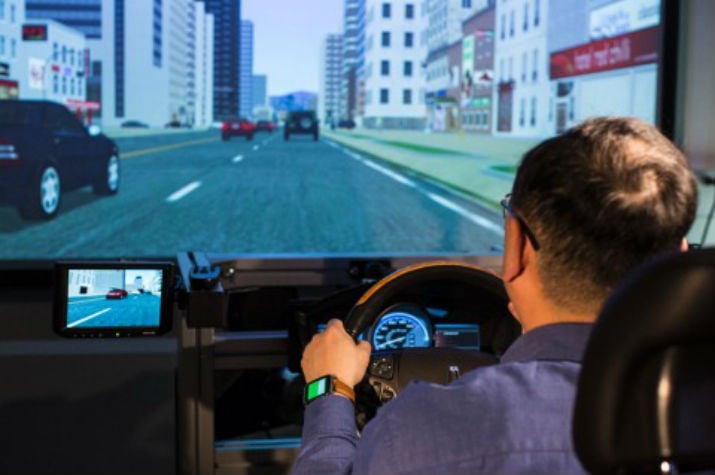 The company looks to integrate wearable technology into its vehicles. (Image Credit: Ford)

Potential wearable applications include linking health data to active vehicle driver-assist features, so the technologies can be more aware of the driver—especially in situations where that person is stressed or tired.

And as with so many other areas, like the medical field, retail and even construction industries, Ford has implemented virtual and augmented realities to help aid in the vehicle design process. Using virtual reality, the Ford team can create a digital representation of a vehicle before actually building it.

"Digital tools and virtual reality are used to help assemble the vehicle properly," said Buczkowski.

Building a prototype vehicle is a costly thing to do, so the company is taking real vehicles and overlaying augmented models on top, allowing for real-time adjustments and perfection before development.

This won't be the last of the innovative strides coming out of the Ford lab. There is probably technology being developed that we cannot even use yet.

Looking back over his 37 years with Ford, Buczkowski points out that he's lived through the many changes in the automotive space and has watched the semiconductor industry change things—helping to create more powerful chips and processors which have all impacted the evolution of vehicles.

"Today it's really about the software," said Buczkowski. "It's the software that's creating this unique DNA."

And more will be revealed.