Allegro MicroSystems, LLC has unveiled two adjustable high-frequency DC-DC step-down switching regulators with an integrated high-side power MOSFET ideal for power supply requirements of the latest infotainment systems.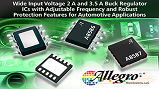 Allegro's A8586 and A8587 step-down DC/DC buck regulators. Source: Allegro Microsystems

Allegro's A8586 provides up to 3.5 A output current, while the A8587 has output current of up to 2.0 A. Both devices are automotive, AEC-Q100 qualified and incorporate current-mode control for fast transient response. The wide input range of 3.8 to 36 V suits both devices for a wide range of step-down applications, including those in an automotive input environment. Battery-driven "keepalive" applications benefit from the low 30 μA operational quiescent current. Both devices are designed to handle a load dump condition with 40 V maximum rating as well as idle-stop and cold crank conditions with 3 V UVLO rating.

The regulators maintain high efficiency across a wide range of loads in the PWM mode and incorporate pulse frequency modulation (PFM) as the load reduces. This in turn reduces switching and gate driver losses at light loads. Both the A8586 and A8587 incorporate frequency foldback to help prevent inductor current runaway during startup and provide enhanced dropout performance. Safety and robust protection features include pulse-by-pulse current limit, hiccup mode short-circuit protection, open/short freewheeling diode protection, BOOT open/short voltage protection, VIN under-voltage lockout and thermal shutdown. The A8587 also has a Negative Power-On-Reset function to indicate in-regulation and out-of-regulation status.

Both devices target automotive center stack and instrument clusters, advanced driver assistance systems and heads-up display, industrial controls and battery-powered systems. The A8586 is available in industry-standard DFN-10 and SOIC-8 packages; the A8587 is available in a DFN-10 package.

In quantities of 1,000, pricing for the A8586 starts at 99 cents each.