In the last year or so, the high price and complexity of Light Detection and Ranging (LiDAR) sensor units has limited their appeal to hobbyists and do-it-yourselfers. Articles touting cost breakthroughs usually apply to collision-avoidance equipment for self-driving cars. Now there are options that cost in the hundreds of dollars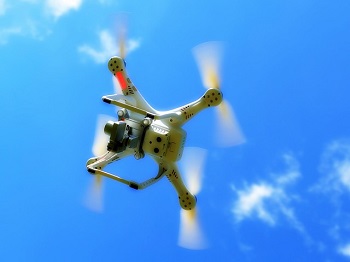 Quadcopter. Image credit: Pixabay rather than the thousands, and the internet provides plenty of instructions for adding a LiDAR unit to an Unmanned Aerial Vehicle (UAV).
What is lidar?
A LiDAR (Light Detection and Ranging) sensor scans an area by sending out laser pulses and measuring the amount of time required for the signal to reflect back—the time-of-flight measurement. The laser operates in the near-infrared zone, emitting brief powerful pulses over an area of a meter up to several kilometers.
Selection criteria
Product descriptions usually indicate the applications for which a particular LiDAR unit is suitable. A few additional factors to consider:
What functions will the unit perform?
Before looking for options, take some time to figure out what the LiDAR needs to do. Different sensors can be optimized for different applications. A sensor for 3-D mapping might not be the best choice for collision avoidance, night vision or building inspection. It's possible that separate units—one for collision avoidance and another for mapping—would be the right option.
Is it easy to use?
Ease of use is relative. Units that allow users to adjust functions, like scan rate, are flexible, but the user needs to understand how tweaks affect results. Other ease-of-use factors to consider are the device's software, both for operation and data capture, and its mounting.
How much does it weigh?
Know how heavy a payload the UAV can handle and pick sensors that fit that weight limit.
How rugged is the equipment?
If the UAV will operate in difficult environments (inclement weather, extreme temperatures, hazy or smoky conditions), the LiDAR must stand up to whatever the environment throws at it.
Choices for UAV lidar that won't break the bank
Following are some recent entrants in the UAV-appropriate LiDAR market that are attracting DIY and hobby users. Prices for all of these are in the low hundreds of dollars, not thousands. Other products, such as R2D LiDAR from Rhoeby Dynamics, are aimed at the do-it-yourself market but are only usable for indoor applications.

LiDAR-Lite v3. Credit: GarminLiDAR-Lite v3 from Garmin is a reboot of LiDAR-Lite v2, a popular high-performance distance
measurement/rangefinder unit. The LiDAR-Lite has a range of up to 40 meters. It's small, lightweight (16 grams or .56 ounce) and uses little power when it acquires a signal. It is also compatible with I2C and PWM communications devices.
GitHub offers an Arduino library for LiDARLite v3.

NaviPack LiDAR. Credit: NaviPackNaviPack LiDAR Navigation Module from NaviPack is a recently-introduced plug and play unit that includes an integrated SLAM (Simultaneous Localization And Mapping) module. Other specs include a 360-degree field of view, 4,000 samples/second, a 1 mm resolution and accuracy of 1-2 percent of distance. Range is up to 15 meters. The NaviPack can connect through serial port, USB or WiFi. The device weighs 199 grams. According to NaviPack's IndieGoGo page, this unit is appropriate for UAVs, among other applications.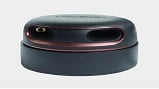 RPLiDAR A2 360. Credit: SLAMTECRPLIDAR A2 360 Laser Scanner (SLAMTEC) is mechanically powered to rotate clockwise 360 degrees, with a user-configurable scan rate of up to 4,000 frames per second. The unit has a range up to 6 meters and weighs 340 grams. This thin unit is small enough to fit in the palm of an adult's hand. SLAMTEC recommends the RPLIDAR A2 for several applications, including robot navigation, environmental scanning, obstacle avoidance, route planning and navigation.
Check GitHub for a Python module.

Sweep LiDAR Credit: ScanseSweep from Scanse offers 360-degree scanning up to a range of 40 meters. The Sweep completed a successful crowdfunding campaign in 2016, developing a new time of flight ranging method. It offers a sampling rate of 500 per second and both UART TTL and USB communications capabilities. For UAV owners, the very lightweight (120 grams) and small size (65 mm x 51 mm) are appealing. Sweep's designers recommend it for "anything you could imagine": UAVs, ground robots, educational projects and people tracking. This unit is available for pre-order.
Keep an eye on Velodyne, manufacturer of several LiDAR systems that are frequently used in self-driving cars. Velodyne announced early in 2017 that they have designed a new solid-state version that will bring the price per unit down to $50. The lowest-priced LiDAR in their current catalog sells for about $8,000.
DroneZone published an excellent review of higher-end LiDARs for UAVs in September 2016. This article is worth reading to understand the breadth of LiDAR capabilities available and which questions to ask, whether the buyer wants to spend less than $500 or more than $5,000.