The high-speed LM3 Series 300mm-travel precision linear motion platform is built for high duty cycles and long-lifetime precision performance in inspection, scanning, optical positioning, and laser marking and machining applications. The low-profile linear motor stages exhibit high accuracy (15 µm), repeatability (1 µm), flatness (5 µm) and straightness (5 µm) with regard to travel. They attain high linear velocities up to 900 mm/s, which is ideal for factory automation and semiconductor processing equipment.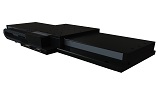 Additional features include ironless linear servomotors and recirculating ball linear ways, which enable extremely smooth motion and velocity control; hard coverings complete with side seals to satisfy the ingress protection demands of harsh industrial applications; a high-resolution (0.1µm) linear SS scale encoder; optical limit switches with home; and integrated cable management to simplify design-in. The series can also be stacked to create XY motion.
The precision linear motion platforms measure 530 mm (20.866 in.) long x 205.096 mm (8.075 in.) wide x 62 mm (2.441 in.) high. Standard lead-time for the series is five weeks.