Nvidia Corp. has launched what it claims to be the world's first deep-learning supercomputer designed to up the stakes in developing artificial intelligence.
The Nvidia DGX-1 supercomputer delivers a throughput of 250 x 86 servers by combining a new generation of Nvidia GPU accelerators, deep-learning software and development tools. As a result, the supercomputer allows scientists and researchers to create a new class of intelligent machines that learn, see and perceive the world as humans do, Nvidia says.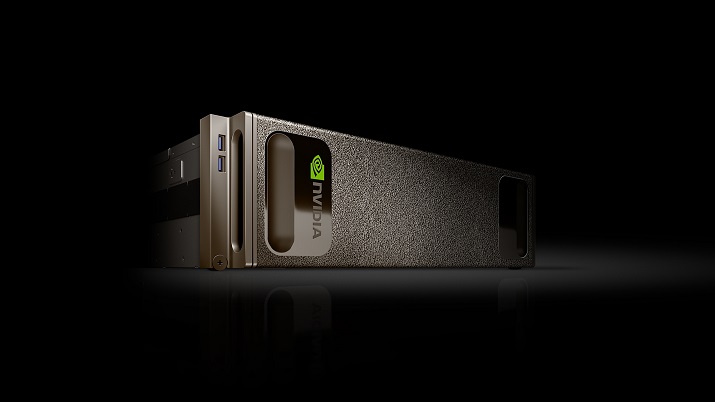 The Nvidia DGX-1 supercomputer offers the performance of 250 CPU-based servers in one single box. Source: NvidiaThe supercomputer is designed to drive a new kind of software created with massive amounts of data, which require considerably higher levels of computational performance. The Nvidia DGX-1 allows researchers to reduce time to train larger, more sophisticated deep neural networks, Nvidia says.
What's Inside
The Nvidia DGX-1 deep-learning supercomputer is powered by Nvidia's Tesla P100 GPUs, based on Nvidia's new Pascal GPU architecture. These high-performance GPUs allow for the equivalent of 250 CPU-based servers, networking, cables and racks all inside one single box.
The supercomputer also includes four other features, including the NVLink high-speed interconnect for scalability; 16-nm FinFET fabrication technology for energy efficiency; Chip-on-Wafer-on-Substrate with HBM2 for big data workloads; and new half-precision instructions to deliver more than 21 teraflops of peak performance for deep learning.
Nvidia says these features allow the DGX-1 systems equipped with Tesla P100 GPUs to deliver more than 12x faster training than four-way Nvidia Maxwell architecture-based offerings Nvidia unveiled just one year ago. Nvidia has already sparked interest from Facebook's AI Research division, Baidu and Microsoft Research.