Nvidia Corporation has taken the wraps off its latest mobile processor that will be used to power automotive applications such as self-driving cars and digital cockpits.
Dubbed Parker, the system-on-chip (SoC) includes features important to autonomous driving, such as deep learning, hardware-level virtualization for design integration, hardware-based safety engine for fault detection, and error processing and IO ports for automotive integration. Built on Nvidia's Pascal GPU architecture and its next-generation Denver CPU architecture, Parker delivers up to 1.5 teraflops of performance for deep learning-based, self-driving artificial intelligence.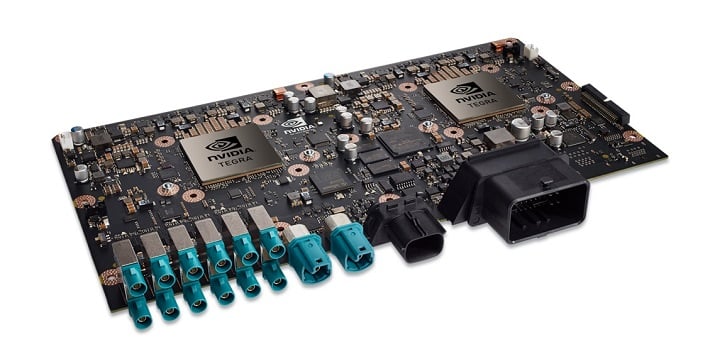 The Nvidia Drive PX2 platform includes two Parker processors and two Pascal architecture-based GPUs for deep-learning applications. Source: Nvidia Nvidia says Parker delivers 50% to 100% higher multi-core CPU performance compared to other mobile processors, as it consists of two 64-bit Denver CPU cores (called Denver 2.0) paired with four 64-bit ARM Cortex A57 CPUs. Denver 2.0 is a seven-way superscalar processor supporting the ARM v8 instruction set and implements an improved dynamic code optimization algorithm and low-power retention for better energy efficiency.
Nvidia already debuted Parker in its Nvidia Drive PX2 platform at the 2016 Consumer Electronics Show. Drive PX2 includes two Parker processors and two Pascal architecture-based GPUs. More than 80 carmakers and university research centers are using Drive PX2 systems to develop autonomous vehicles, including Volvo, which plans to road test the system in its XC90 SUVs next year. Nvidia says the Drive PX2 platform delivers 24 trillion deep-learning operations per second to deliver the supercomputer level of performance that self-driving cars need to safely navigate through all kinds of driving environments.
Working with supercomputers in the cloud, Nvidia says Parker-based autonomous vehicles can be updated with newer algorithms and information to improve safety and accuracy. Virtualization allows carmakers to use a single Parker-based Drive PX2 system to host multiple systems, such as in-vehicle infotainment systems, digital instrument clusters and driver assistance systems.
To contact the author of this article, email engineering360editors@ihs.com