Mouser Electronics Inc. is again teaming up with celebrity engineer Grant Imahara in an interview as part of the Portable Power Series in the Empowering Innovation Together™ program.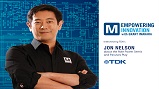 Grant Imahara teams with Mouser to interview TDK President Jon Nelson. (Source: Mouser)In this interview, Grant speaks with Jon Nelson, President and CEO of TDK Americas, to learn more about energy management and storage. Nelson explains how TDK Americas and EPCOS, a TDK group company, keep up with the latest power trends by delivering electronic components that contain the newest materials to optimize performance, cost and space for the next generation of products and power designs.

In this latest Innovation Spotlight video interview, Grant continues his discussion about energy management and storage with TDK, asking Nelson his perspective on the future of power management and conversion as it relates to high-frequency magnetics, switch-mode power supplies, inverters and variable frequency drives—all of which TDK supplies to design engineers worldwide.

Grant learns what trends Nelson sees emerging for energy storage, battery management and power-conversion applications. Nelson also describes how TDK Americas and EPCOS are reducing the size of their components while increasing the efficiency, and how the company maximizes power- management flexibility and functionality for the designer through higher switching frequencies, higher voltage and lower current, and higher power densities.

The new Innovation Spotlight video interview, available only on Mouser.com, is part of the Portable Power Series and Empowering Innovation Together program.

The Portable Power Series is the first installment for 2016, following the popular Robotics, Space, Home Automation and Driverless Cars programs launched in 2015 by Mouser Electronics.