Designed to bring professional-level auto-focusing (AF) performance to a mobile device, Samsung Electronics Company's newest 12 megapixel (MP) image sensor for smartphones is equipped with dual-pixel technology, enabling rapid phase-detection auto-focus for fast photo shooting while producing premium image quality on mobile devices, even in low-light situations. Until now this technology has been reserved for digital single-lens reflex cameras.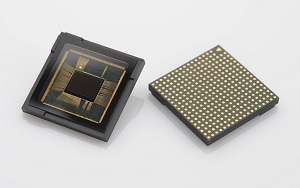 Samsung's 12-MP, dual-pixel image sensor brings phase-detection auto-focus to smartphones for fast photo-shooting, even in low-light situations. (Source: Samsung Electronics Co., Ltd.)The 1.4μm-pixel-based dual-pixel image sensor employs two photodiodes located on the left and right halves of a pixel. While a conventional image sensor dedicates less than five percent of its pixels to phase-detection AF, each and every pixel of the dual-pixel image sensor is capable of detecting phase differences of perceived light, enabling significantly faster auto-focus and ensuring clear and sharp images— especially for moving objects—even in poor lighting conditions.
Built with chip-stacking technology, the new dual-pixel image sensor stacks a 65 nanometer (nm) sensor atop a 28nm logic chip, to maximize imaging performance while minimizing the sensor's physical size. The image sensor has also adopted Samsung's ISOCELL technology, which isolates the photodiodes in each pixel with a physical wall to further reduce color crosstalk.