Getting a signal from Point A to compatible Point B in a circuit is simple, at least in theory: just connect it directly using wires, or via an appropriate passive or active component as the intermediary. In reality though, making the connection is not necessarily so simple, as there are many cases where a signal's information needs to get from A to B, but there can be no physical path between those two points. This requires galvanic or ohmic isolation, meaning that if you connected an ohmmeter between points A and B, the reading would be near infinite.
There are several situations where isolation of analog or digital signals is often useful, desirable or even mandatory:
•The source of the signal being passed along is not referenced to the circuitry common (often called "ground," but that is a misnomer in many cases) and is actually what is called floating, while the signal's receiver is connect to this common. This is often the situation when driving MOSFETs an H-bridge configuration for motor control, Figure 1, where none of the MOSFETs or their drivers are ground-referenced, yet their processor control signals do have a ground reference;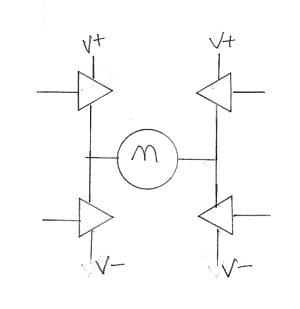 Isolation is needed when MOSFETs drive a motor via an H-bridge configuration drive a motor; unlike their control signals, the drivers have no ground reference. Image source: author
•Or, the signal of interest may have no relation to circuit common at all: consider measuring the voltage across only the top cell in a stack of batteries in series, Figure 2, or the voltage across a current-sense resistor on the high side of the load. The voltage of interest rides on a high common-mode voltage;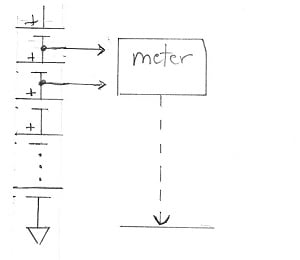 When reading the voltage across one battery in a series stack, the high common mode voltage means the reading circuitry must be isolated from ground. Image source: author
•To eliminate what are called "ground loops," where two parts of the system have different common or ground points (a frequent occurrence in larger systems, where two circuit boards must connect, or where there is a large distance between the two points;
•To protect sensitive or the user against internal failures on the high-voltage side, so that the high voltages will not have a potential path to the user (except if the isolation component also fails—but that would be a double failure), Figure 3; isolation is often required for regulatory approval;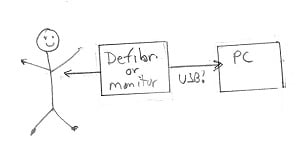 Components such as this isolated USB port protect users and equipment from catastrophic failures, including power-line shorts, at either end. Image source: author
•To protect the equipment from user errors, such as connecting a low-level input to a high-voltage wire, even momentarily. The isolation can be located close to the analog or digital "front end" where it is exposed to the user, or in the middle of the system between the high-voltage and low-voltage portions of the system.
•To prevent system-wide failure when a single node fails internally, such as when there are multiple RS-485 drops (access points) along a LAN cable;
•To get control feedback from the output of a switching power supply back to its primary (input) side, without negating the safety isolation barrier between primary and secondary sides provided by the power transformer, Figure 4.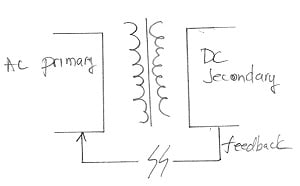 The power path may be insulated by transformer in a switching power supply, but the error signal to the feedback loop on the primary side also needs isolation. Image source: author
Isolation techniques: many options
While isolation adds some cost and complexity, it is needed so frequently that vendors have developed many ways to achieve it with modest impact. It is so important in some situations that you can even purchase USB cables that incorporate it as a function within the cable's connectors; these are used, for example, with medical instruments where a PC is connected to the medical unit and the interconnection (and user or patient) must be protected against consequences of failure at either end, as well as signal-ground loops.
One common technique often used to achieve isolation is based on the optoisolator or optocoupler. This low-cost component embeds an LED separated by a few millimeters from a photodiode, Figure 5. The photons emitted by the LED convey the information, but there is no electrical path between input and output sides. Depending on the construction of the device, the isolation rating will be thousands of volts, more than enough for most applications.

Optical isolation combines an LED and phototransistor in a small IC, with signal information carried across the barrier by photons. Image source: industry generic
The optocoupler is a straightforward solution, but has drawbacks. First, the transfer function between input and output is not linear, and even varies from unit to unit. Therefore, it is best suited for conveying digital signals rather than analog signals which require a linear relationship. This is not a problem in some situations, as the signal of interest is already in digital for or can be digitized at low cost, but there are many cases where the signal is low-level analog and digitizing it is impractical at that point.
Secondly, optocouplers in general suffer from aging degeneration with continuous use, as the LED's output gets dimmer. At some point, it does not produce enough photons to trigger the photodetector, and so has functionally failed although not in the conventional sense of failure. Depending on how much current is used to drive the optocoupler and the use cycle, viable life is typically between two and ten years.
If an optocoupler is not the right choice, there are many other good isolation approaches available using magnetic, capacitive and RF principles. In the magnetic design, a small-signal transformer is used; the gap between the primary-side and secondary-side windings provides the galvanic isolation, Figure 6. Transformers are reliable (if used within their ratings) and effective; they can easily support isolation ratings into thousands of volts.

The class transformer and magnetic coupling can also be used for isolation, conveying signal information across the barrier rather than delivering power. Image source: industry generic
However, they too have a downside-- they can only pass AC signals, not DC or even very low frequencies, yet the signal being isolated may be static or changing very slowly. To solve this problem, vendors of transformer-based isolation components offer not just a transformer, but a complete module which takes the input signal, uses it to modulate a high-frequency carrier (typically 100 kHz), pass it through the transformer (which is much smaller than a 50/60 Hz power transformer), and then demodulate the secondary-side output. From the user perspective, this is a simple, two-port device; the modulation and demodulation circuitry is invisible.
If the specifications of transformer-based isolation are not attractive, there are alternatives. Instead of the magnetic coupling principle that transformers use, there are isolators which use the electric field associated with capacitive coupling, Figure 7. One advantage of this approach is that the capacitor's "plates" can be fabricated as part of a multichip IC (some monolithic MEMS-based versions are available, but with limited performance in some aspects), and so can be made smaller than a comparable transformer-based module. Like the transformer scheme, the capacitor approach needs modulation since the coupling does not support static signals.

The electric field between the plates of a miniature capacitor can also provide a path for signals while denying any physical path. Image source: industry generic
The fourth approach to isolation takes advantage of the reality that ICs can support circuit complexity at low cost and in a small package. Here, a miniature RF transmitter and matching receiver are designed and placed in an IC, Figure 8. The IC encodes (modulates) the signal to be passed, it is sent via integral antenna as a radio wave to a receiver antenna, and then decoded (demodulated) back to its original value.

Isolation can also be implemented with a miniature wireless link, with a transmitter and matching receiver operating at radio frequencies over a distance of a few millimeters. Image source: industry generic
Sources abound for this solution
Isolation has a wide range of important roles in many system designs. It some situations, it is needed for a successful design but it is not mandatory to meet safety and regulatory mandates; in other cases, it not needed but mandatory; finally, in many cases, it is both needed and mandatory. Supplying an effective isolation component requires design and fabrication expertise, as well as the ability to understand and meet stringent tests for safety-related isolation performance. Isolation components are offered by many vendors including Analog Devices, Avago Technologies (Broadcom), Linear Technology Corp., Melexis, NXP, Silicon Laboratories and Texas Instruments, among others. Some of these vendors specialize in providing components using only a single isolation technique, while others offer multiple approaches in the catalog.
Signal isolation allows systems to function despite difficult interface issues within their circuits and I/O. Though it does not "add value" to the signal-processing chain, it is a technique which solves many otherwise intractable problems related to signal integrity, sensing subtleties and safety mandates.
Reference
https://electronics360.globalspec.com/article/6310/understand-current-sensing-techniques-and-challenges